What is Truv
Truv is an alternate method for verifying income and employment. In lieu of verbally confirming information with an individual's previous employer, Truv is an online solution that allows the applicant to verify their previous employment by logging into their previous payroll providers system.
I.e Bamboo, Paylocity, etc.
How does Truv work with Verified First?
Below are the general use cases when Verified First will use Truv to complete out a Verification.
Use Cases:
Not Verified per Request

(When the applicant states to not call/reach out to the previous/current Employer)

Instead of closing these searches immediately as "Not performed", the applicant will receive the Truv communication to verify their employment dates

Current Employers are not notified when the 'scan' is performed

If discovered previous place of employment has been shutdown/dissolved
If The Work Number is "needed" to complete the Verification

Instead of just defaulting to TWN and passing through fee of $83, Truv communication will be sent as a more cost effective option

Exceptions are accounts that have 'blanket approval' on TWN.

If you would like to remove blanket approval, please reach out to our client services team

If on Day 3, we have been unable to verify employment due to the applicant/previous employer being unresponsive/unhelpful
What is the applicant's experience?
The applicant will receive an email and/or text with the subject line, 'Your prospective employer would like to verify your employment history"
In the body of the message, the applicant will select a hyperlink that will route them to Truv's platform. Once the page loads, it'll provide a drop down of the most common payroll providers. The applicant will scroll till they find the Payroll system they use(d).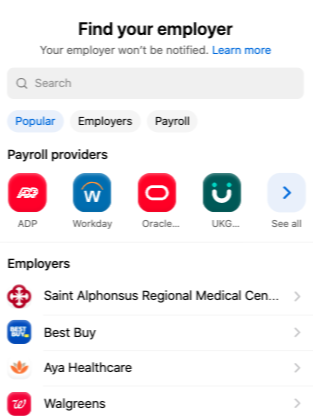 If multiple employers are being verified via Truv, all employers will be listed inside of their platform and no separate emails are sent.
Daily reminder emails are sent to the applicant if the request has not been completed. This email looks and feels very similar to the initial email.
Possible Issues and solutions for your Applicant's
They don't recall which Payroll provider they utilized

After the applicant clicks the Hyperlink, there is a help guide that states "Find my Payroll provider"

This will guide the applicant in how to find their previous payroll provider

Don't remember their credentials

After finding the Payroll provider and selecting it, the applicant can click the link for assistance with their username and/or password.

If still unsuccessful and can not log in, Truv will accept Pay Stubs to complete the Verification

On the same page as "Forgot Password", there is an Upload Paystubs option

The Applicant will be advised to upload their two most recent paystubs and their original paystub

Truv will use this information to complete the Verification
How is Truv different from our standard Employment Verification?
The main difference is Truv verifies income/employment only. It is not able to obtain our 'standard' set of questions, such as

Is Hank Mess eligible to be re-hired?

The file will just report income and dates employed.

Not Verified Per Request will no longer be closed automatically.

The applicant will receive the Truv Email to verify time of employment/income

Once we send the Truv communication, the applicant will have 48 hours to log into their payroll providers system before the link expires.

Add'l fee of $3.50 will be passed through to client if the Verification was completed by Truv