I entered the wrong name and/or date of birth in my order, how can I fix this?
If applicant information was submitted incorrectly, you will need to reach out to Client Services to get this corrected and re-processed. Please note if a search is resubmitted, charges for the service resubmissions may be applicable. If any candidate information was entered incorrectly such as driver's license numbers, email addresses, etc. - please call into Client Services to get this corrected.
Can I run a background check on a minor?
Yes, you can run a background check on a minor between the ages of 15 and 17, as long as the paper disclosure and authorization form have been signed by the candidate as well as their parent/guardian. If you'd like to learn more, click here.
How can I cancel my order after it has been submitted?
To cancel your order, please reach out to Client Services. Please note once you hit "submit order" searches begin processing so charges may still be applied.
How do I run a background check when the applicant doesn't have an email address?
Select the "Individual does not have an email" button on your ordering page:

If you do not have this enabled, please contact Client Services to have this enabled.
How do I change the Search Purpose on my ordering page?
To change your search purpose, select an option from the "Search Purpose" dropdown on the order page: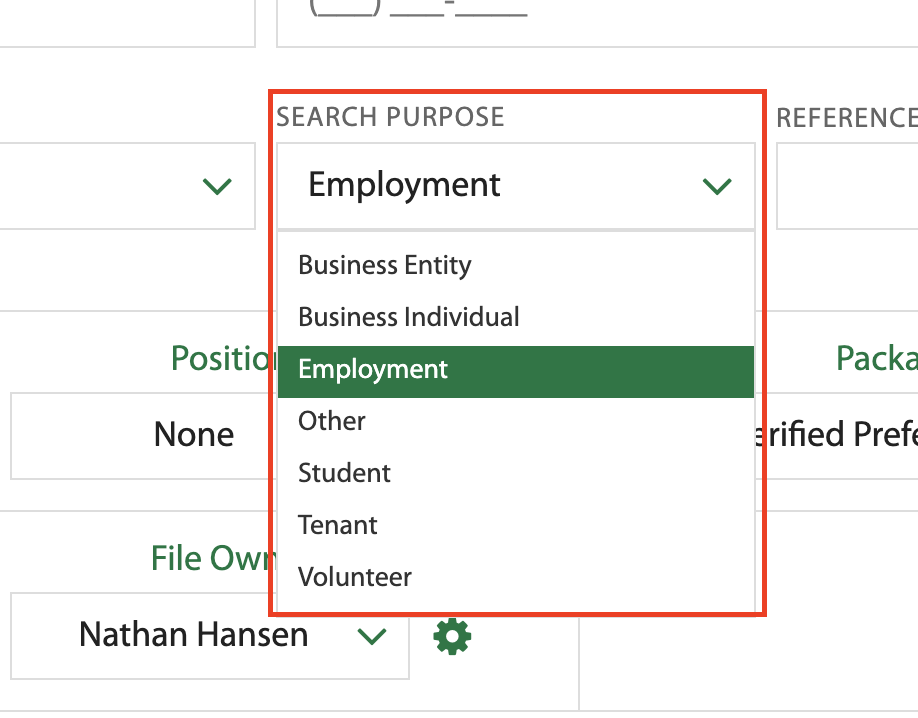 Note: The search purposes listed are determined by what was selected and signed for on your Master Service Agreement. If an additional search purpose needs to be enabled, please reach out to Client Services. You may be asked to complete a new Master Service Agreement.
My portal randomly gets stuck loading. How do I fix this?
Clear your cache and cookies and ensure that your browser is using the latest version.
How do I start Adverse Action?
Click here to view our How to Take Adverse Action article.
How do I upload a form to a file I already submitted?
Navigate to the File Attachments section, located at the bottom right hand corner of the file you're updating. Select the green upload button and upload the form you'd like to attach: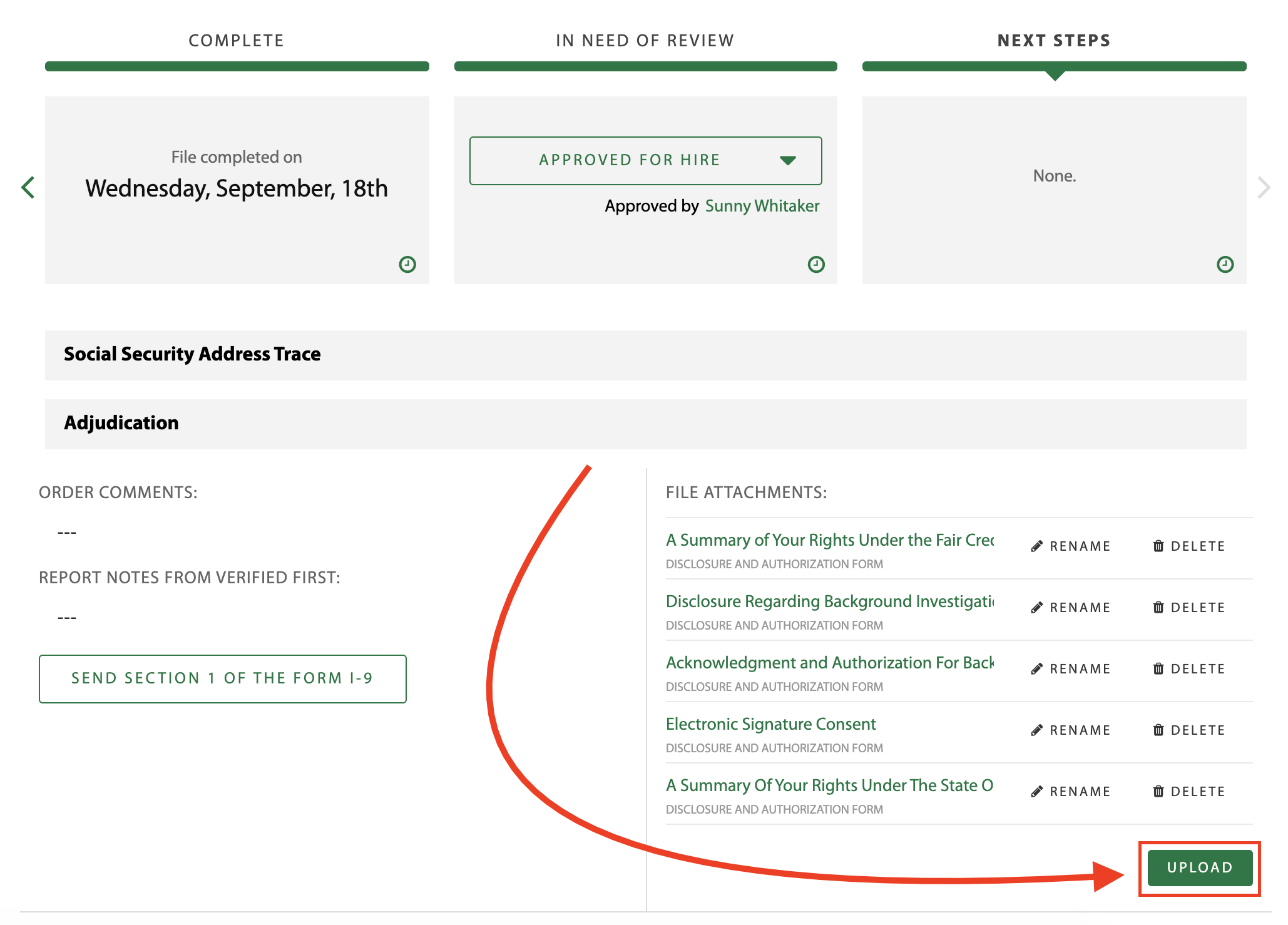 My candidate does not have a middle name, what do I do?
Select the check box next to "none," located right next to "Middle Name/Initial. Pick 1 of 2 options indicating whether your candidate does not have a middle name, or you didn't collect the middle name:

Why are my rerun Social Security Traces giving me different results?
We receive results from multiple sources. Those sources have differing coverage and their data is updated on a daily basis, so it can occasionally cause results to differ.
Can disclosure and authorization forms be edited, and what do I have to do to edit them?
Yes. We allow the customization of disclosure and authorization forms for individual accounts for an additional fee. We strongly recommend any edits or customizations be approved by your legal counsel prior to reaching out to us. Our team cannot provide any legal guidance on disclosure or authorization form changes. When you're ready, simply give us a call to get the process started.
Can I email you an applicant's social security number?
Please call us to provide an applicant's SSN, unless you are able to send it using a secured, encrypted email.
Do all background reports cover misdemeanors and felonies?
It varies depending on which products are run. Our county criminal searches uncover misdemeanors and felonies within a specific county's Central court or County Seat court. We report conviction cases seven years from the disposition date; prison/parole release dates may be used if readily available. Verified First also reports a minimum of seven years in cases involving homicide, kidnapping, and sexual assault/abuse where easily accessible.
Do you have disclosure and authorization forms in Spanish?
At this time, we only provide disclosure and authorization forms in English.
The information and opinions expressed are for educational purposes only and are based 
on current practice, industry related knowledge and business expertise. The information
provided shall not be construed as legal advice, express or implied. 

If you have any further questions, or need a product enabled on your account, 
please contact Verified First Client Services for assistance.

Call 844-709-2708 or email clientservices@verifiedfirst.com