Pre-pull is currently available in the portal for applicant invite - manual orders and direct orders only. Pre-pull for batch ordering and applicant invite - auto orders will be coming in the near future.
Pre-pull is when a social security trace is done on an applicant and results are returned with other counties/jurisdictions that the applicant has previously lived in, before the order is completely submitted. This provides the HR user with an opportunity to review the pre-pull results and make further decisions on expanding the jurisdiction of the searches before they completely submit the file.
Let's take a look at what pre-pull looks like in a direct order being placed.
Log in to the portal and click order in the top left-hand corner of the dashboard: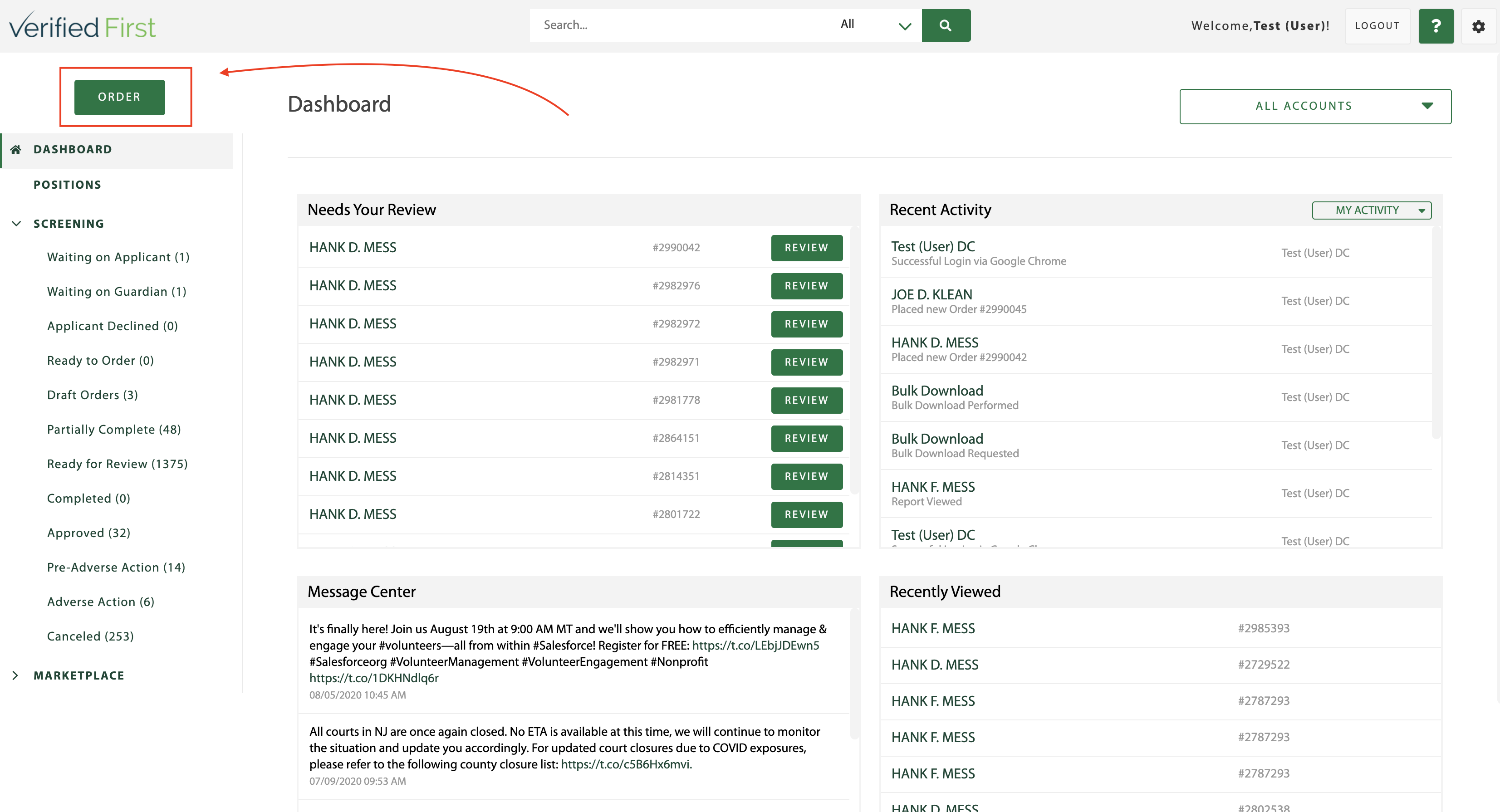 Enter the applicant's personal information and select the appropriate position, file owner, etc: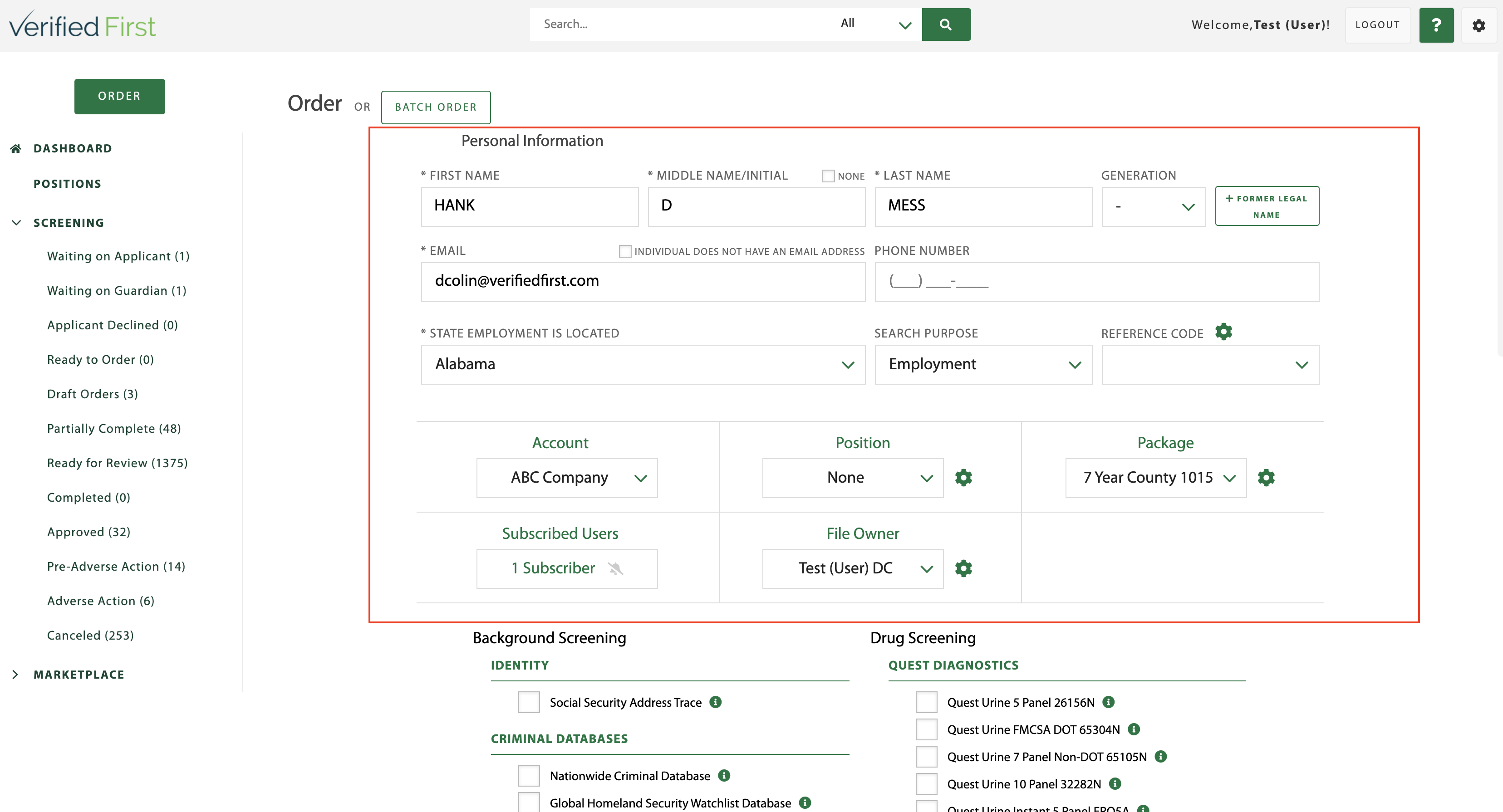 Scroll down to the product selection area of the order screen. You will now see 4 new products listed - Unlimited County Criminal Records, Unlimited Federal Criminal Records, Unlimited Federal Civil Records, and Unlimited County Civil Records: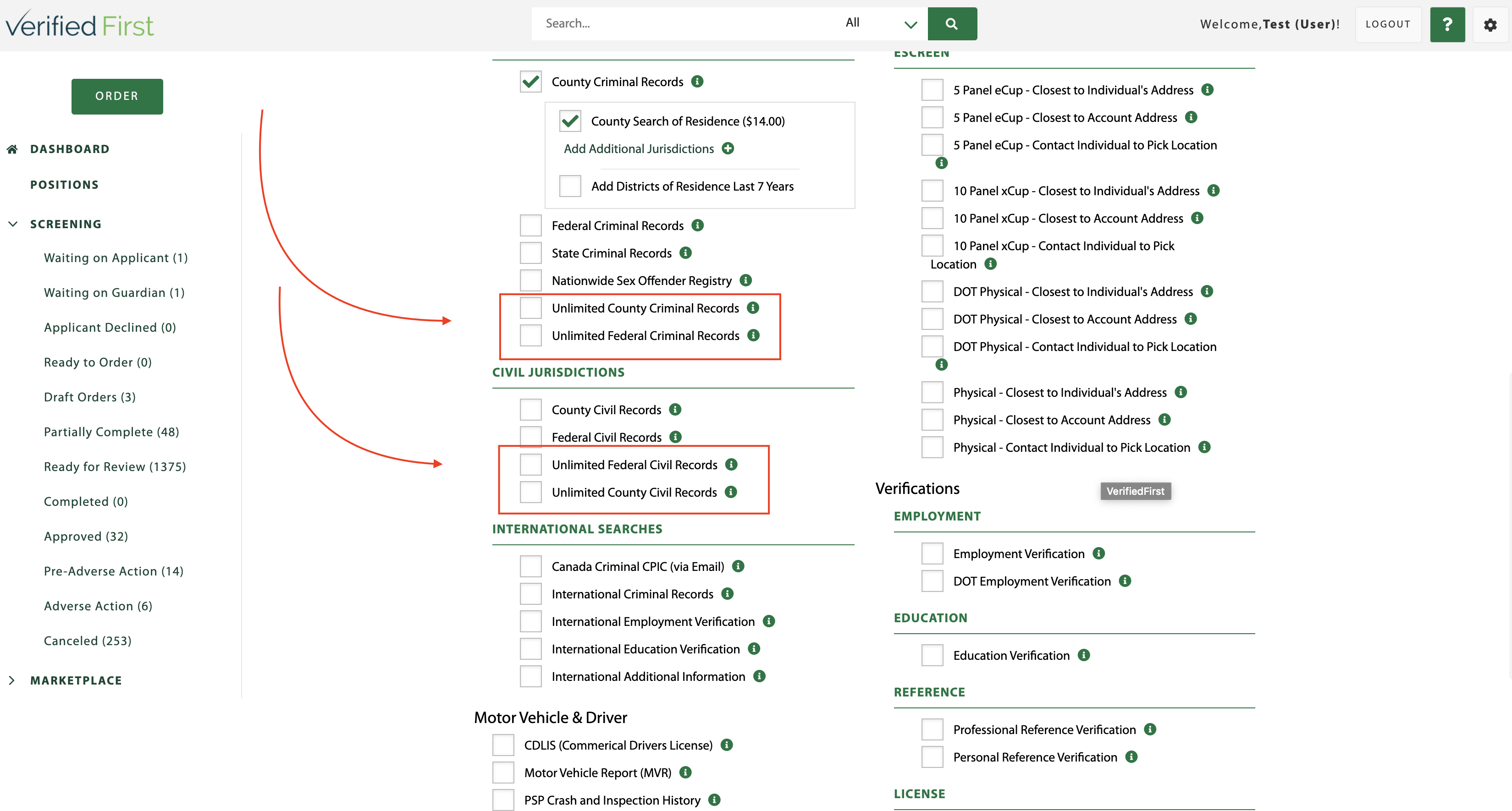 These 4 products all trigger pre-pull in the order.
Let's select one of the 4 unlimited products. You'll see new verbiage on this product once you select it that tells you this search will provide you with jurisdictions from the last 7 years of history that is returned from the social security trace: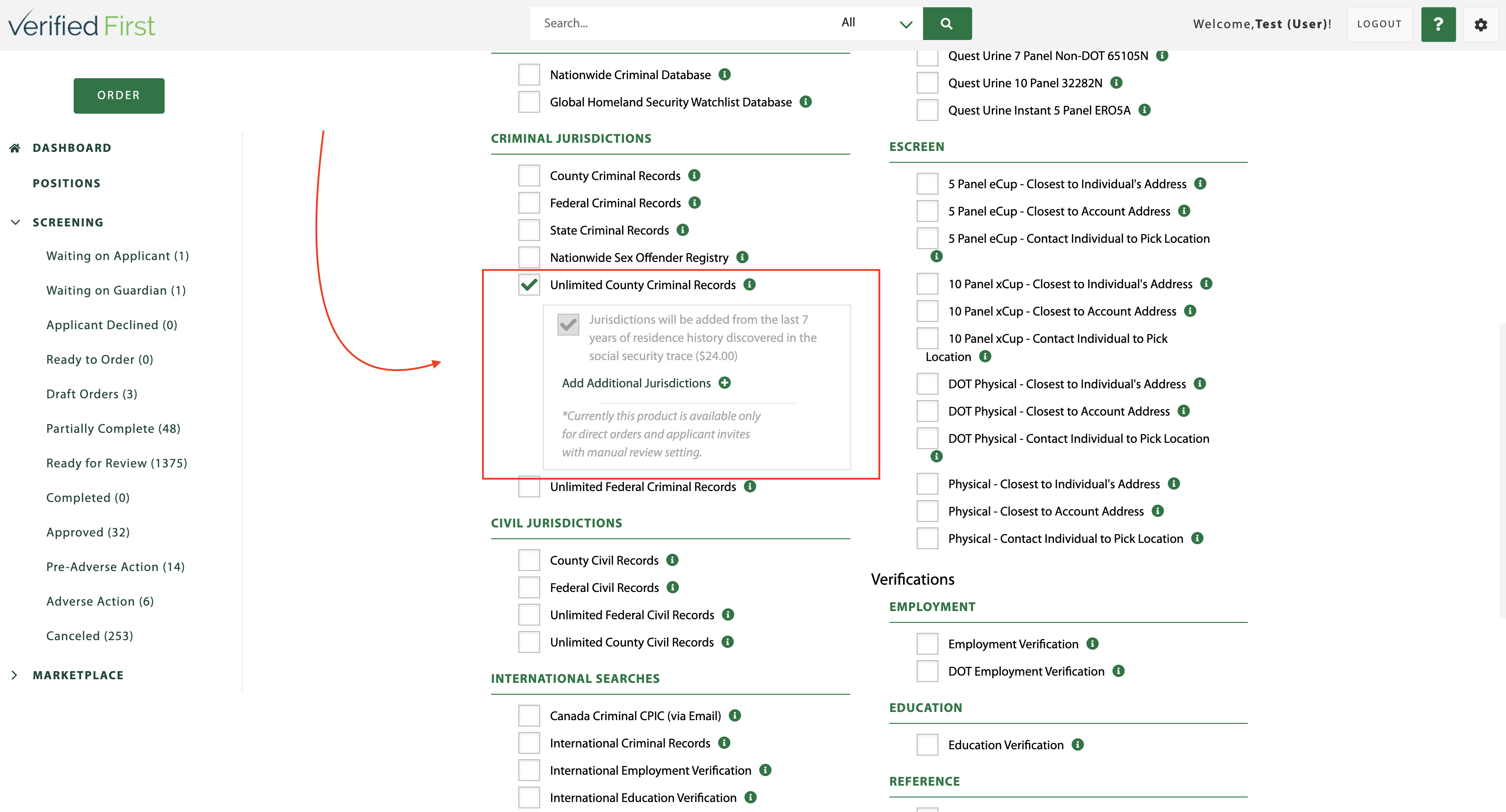 Click next, then enter the applicant's information: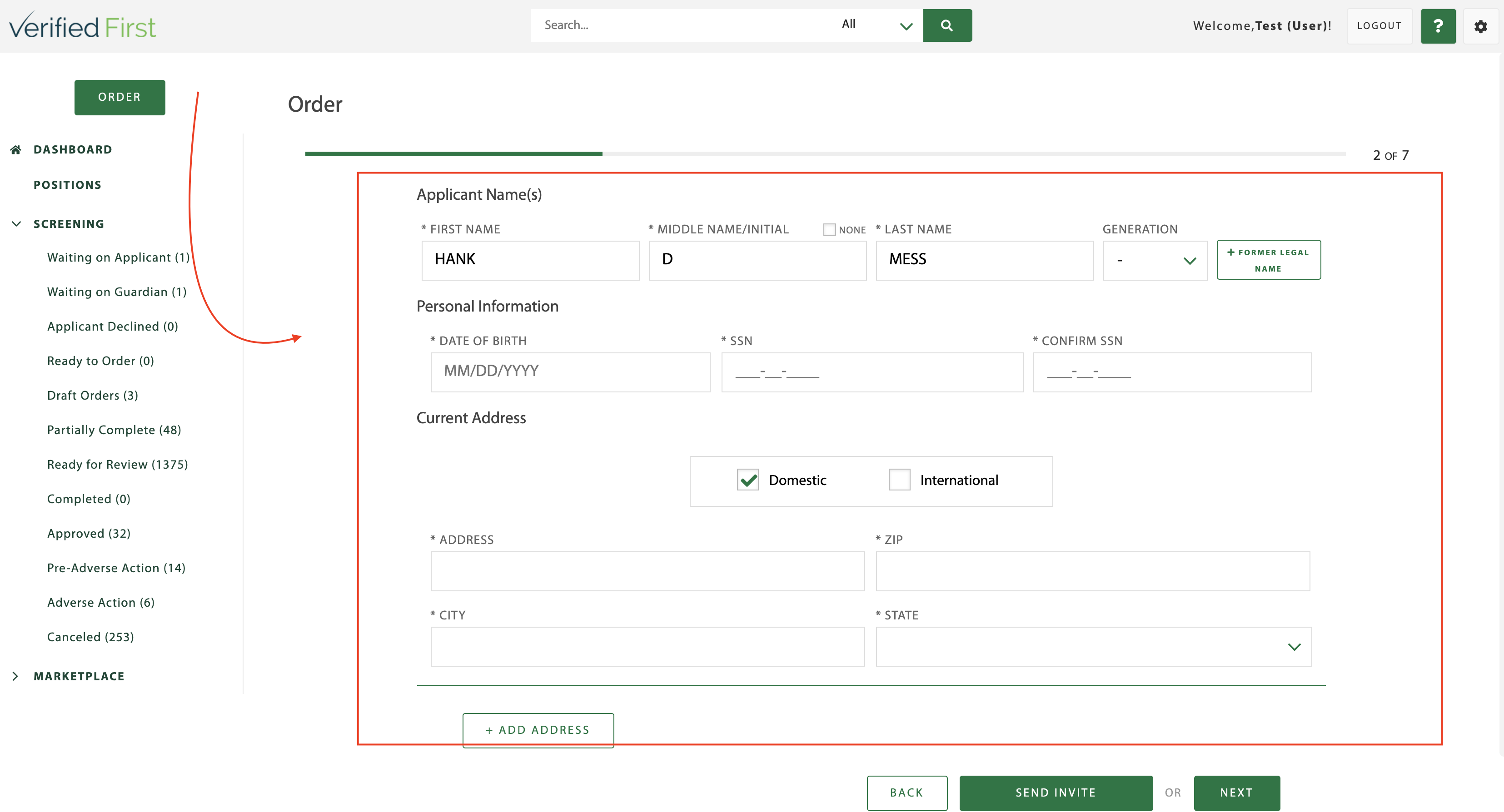 Here you will verify that the applicant's information you entered is correct before clicking process social security address trace.
Note: Once the social security address trace is initiated, there will be a charge for the pre-pull search, even if the file is not completely submitted.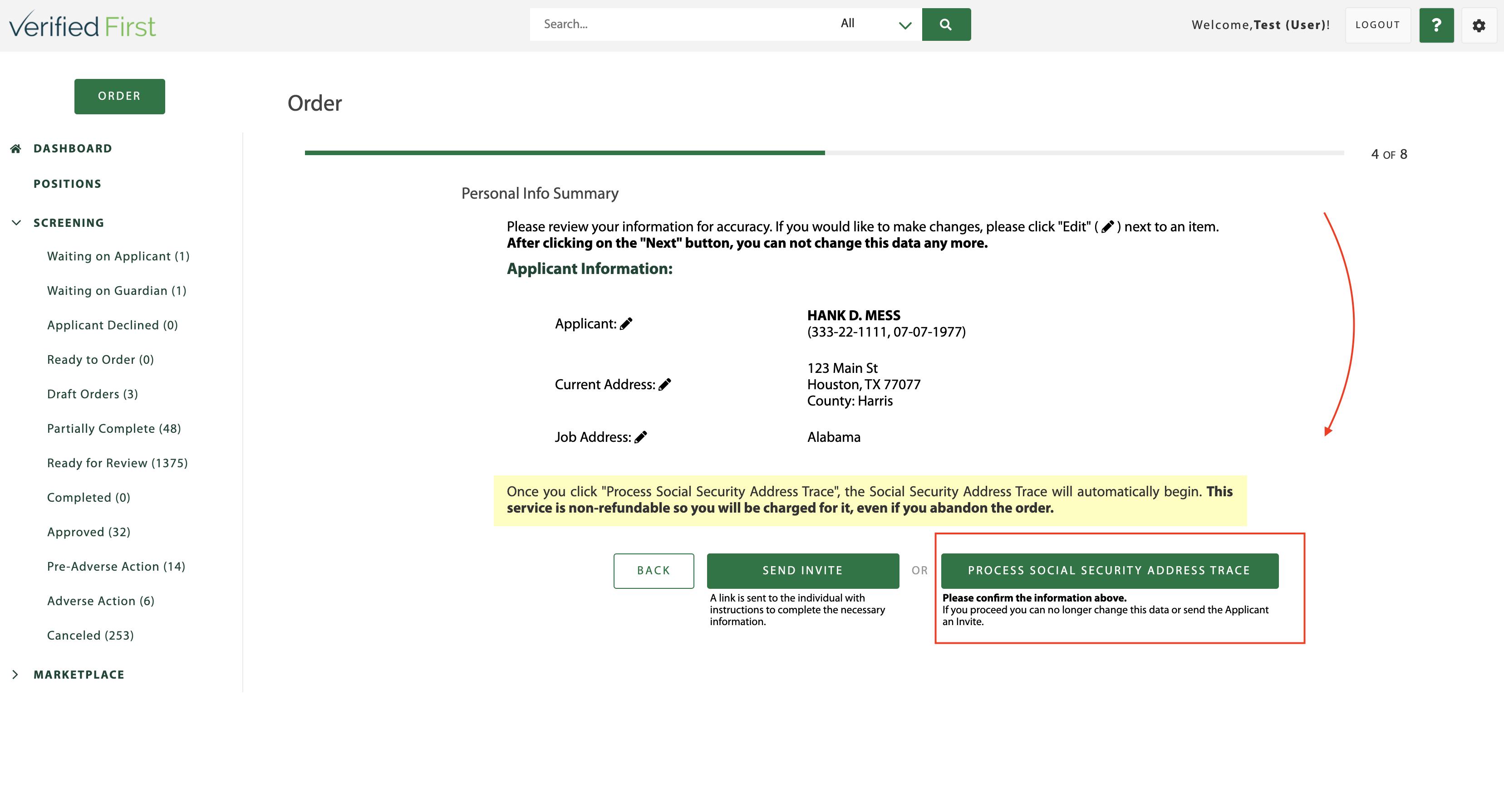 Once you click process social security address trace the pre-pull search will be initiated and you'll see progress bars as the search begins:
If the search takes longer than 15 seconds, this message will display indicating you can continue to wait for the search: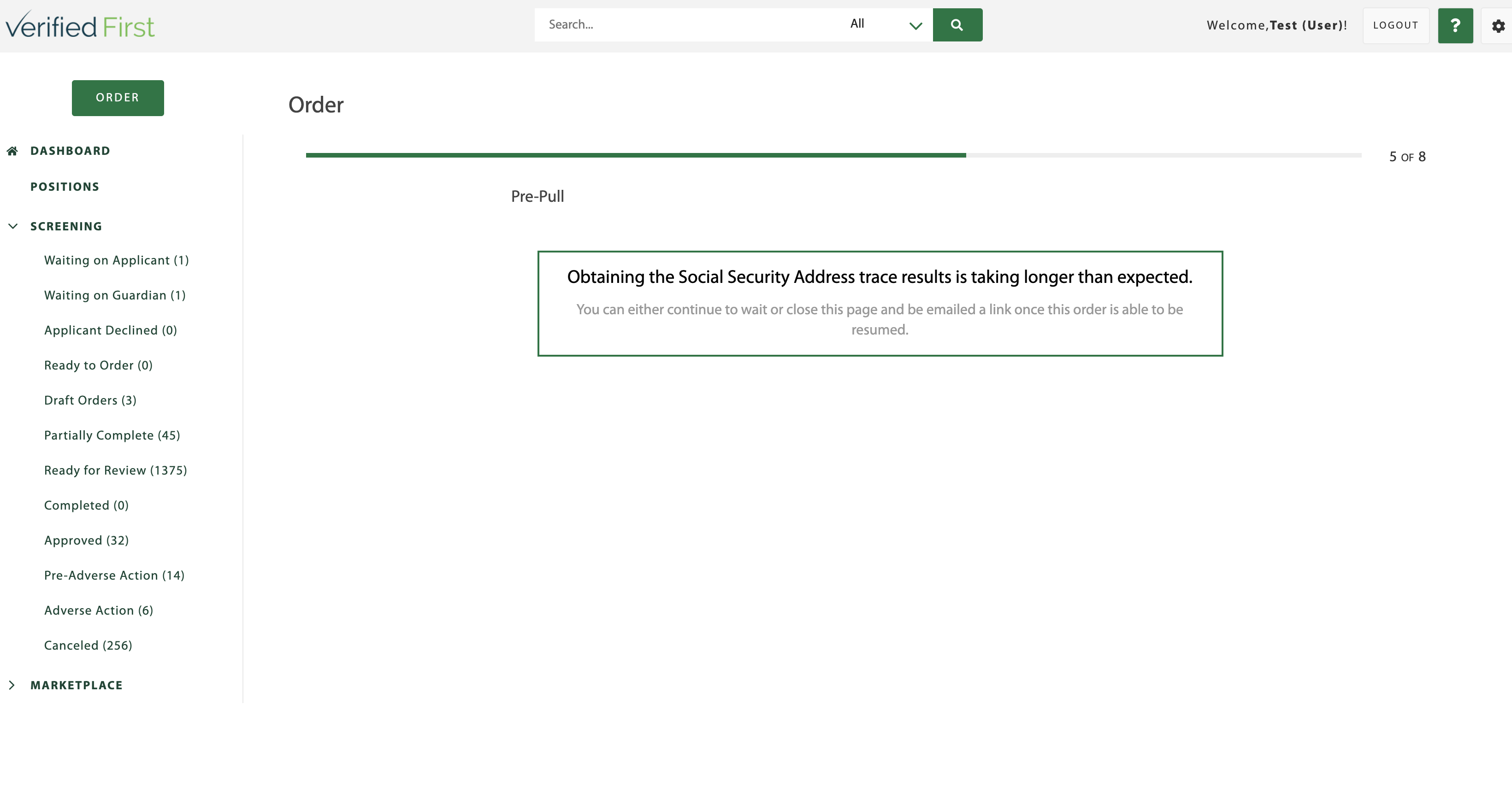 Or you can close the browser window and receive an email confirmation when the pre-pull search has completed: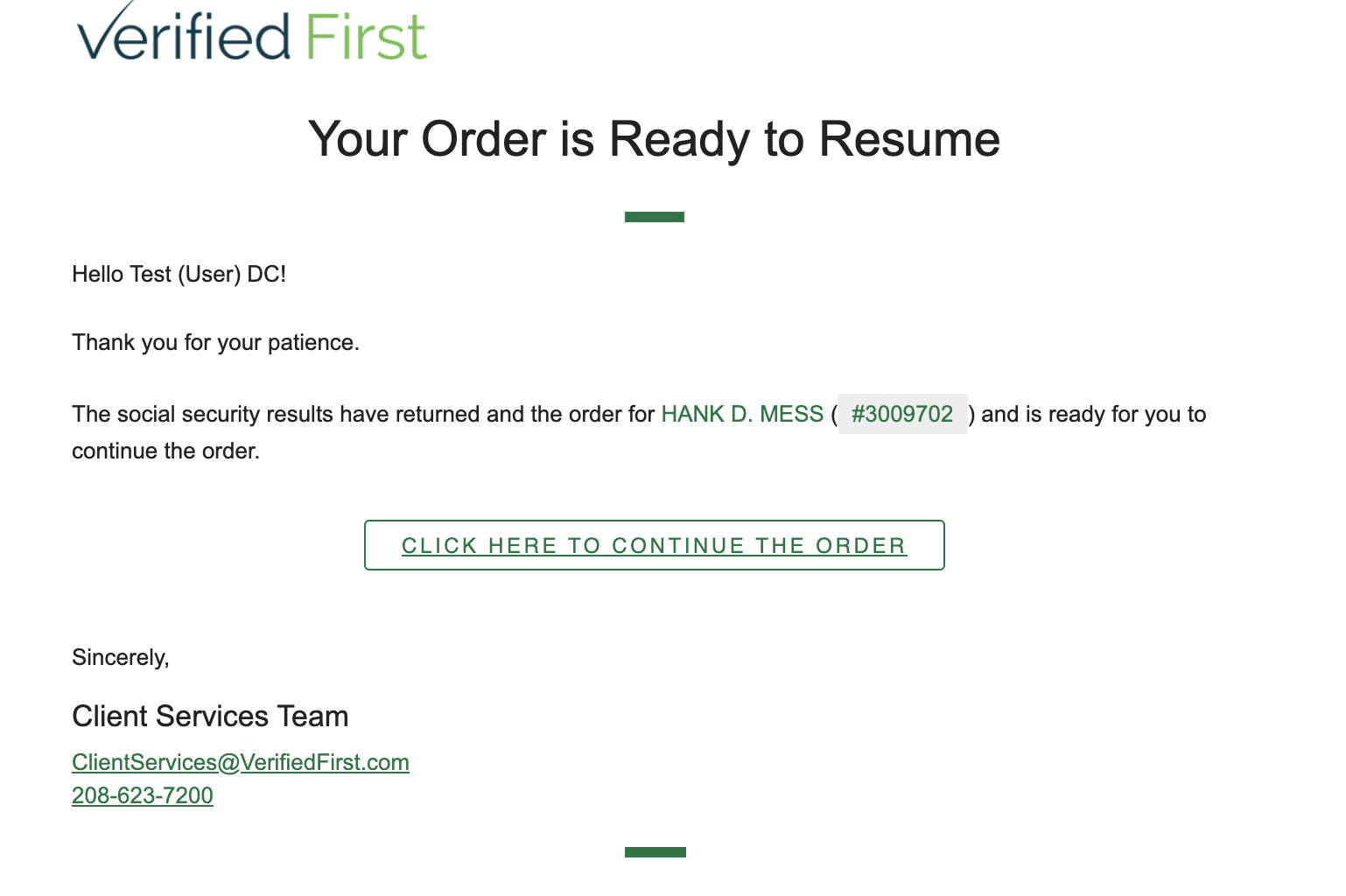 Once the pre-pull initial search is complete (or you have clicked the link in the email sent to you), you will be presented with a screen that shows any associated jurisdictions and alias names (also called Developed Jurisdictions and Developed Names) that were returned in the pre-pull search, for the applicant: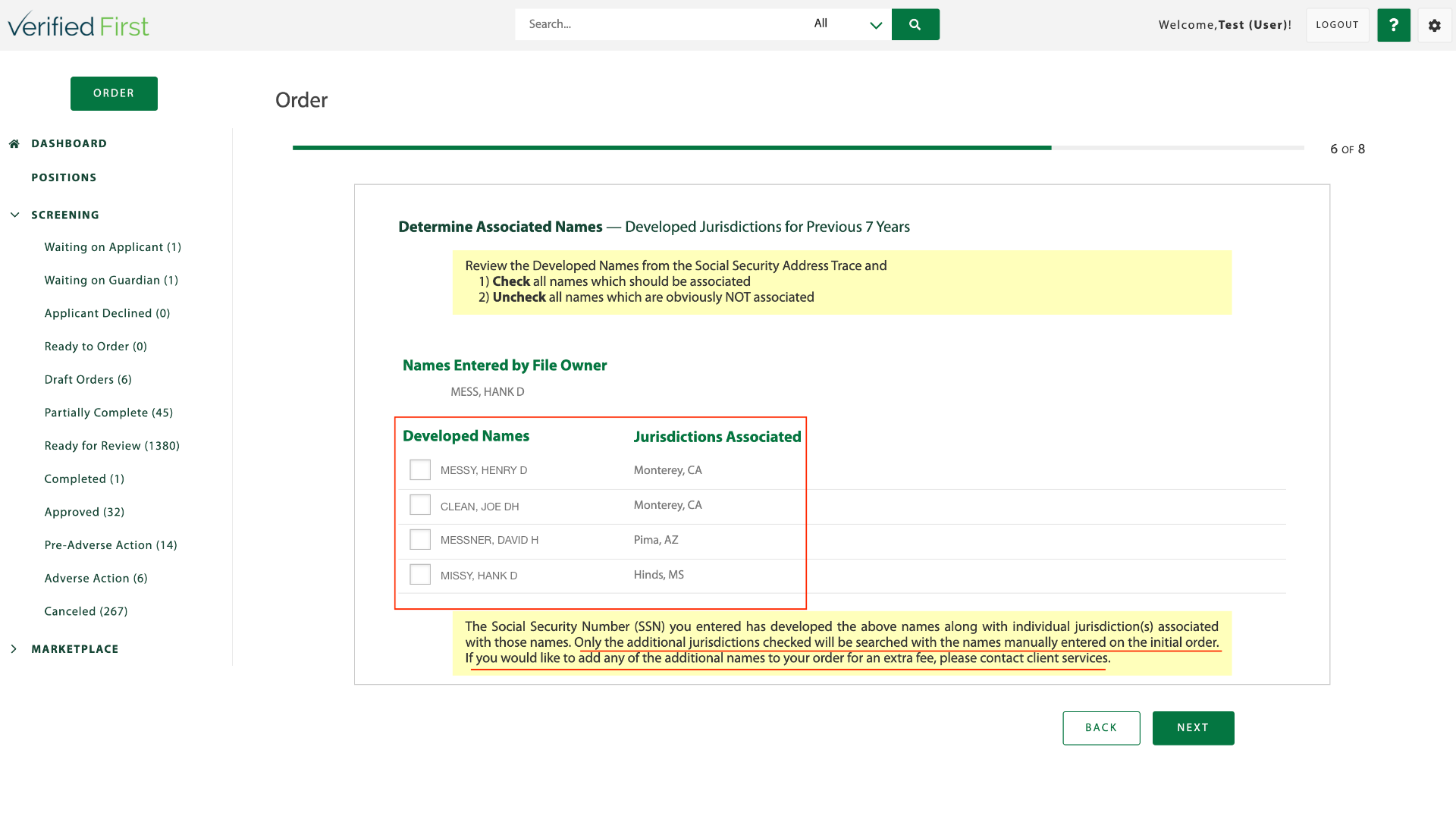 If additional alias names are shown in the Developed Names section, checking the box next to that name will only select the jurisdiction that is associated with that name. The verbiage at the bottom of the page will direct the user to contact Client Services if you desire to have the alias name added to the order in addition to the jurisdiction.
Click Next to proceed to the next screen where you will double check the jurisdictions that were added from the pre-pull initial search and in the column on the far right you can see if the search is included in the Unlimited County product you selected, or if there will be an additional cost (it would say "Additional Jurisdiction" if the jurisdiction selected isn't included in the unlimited search):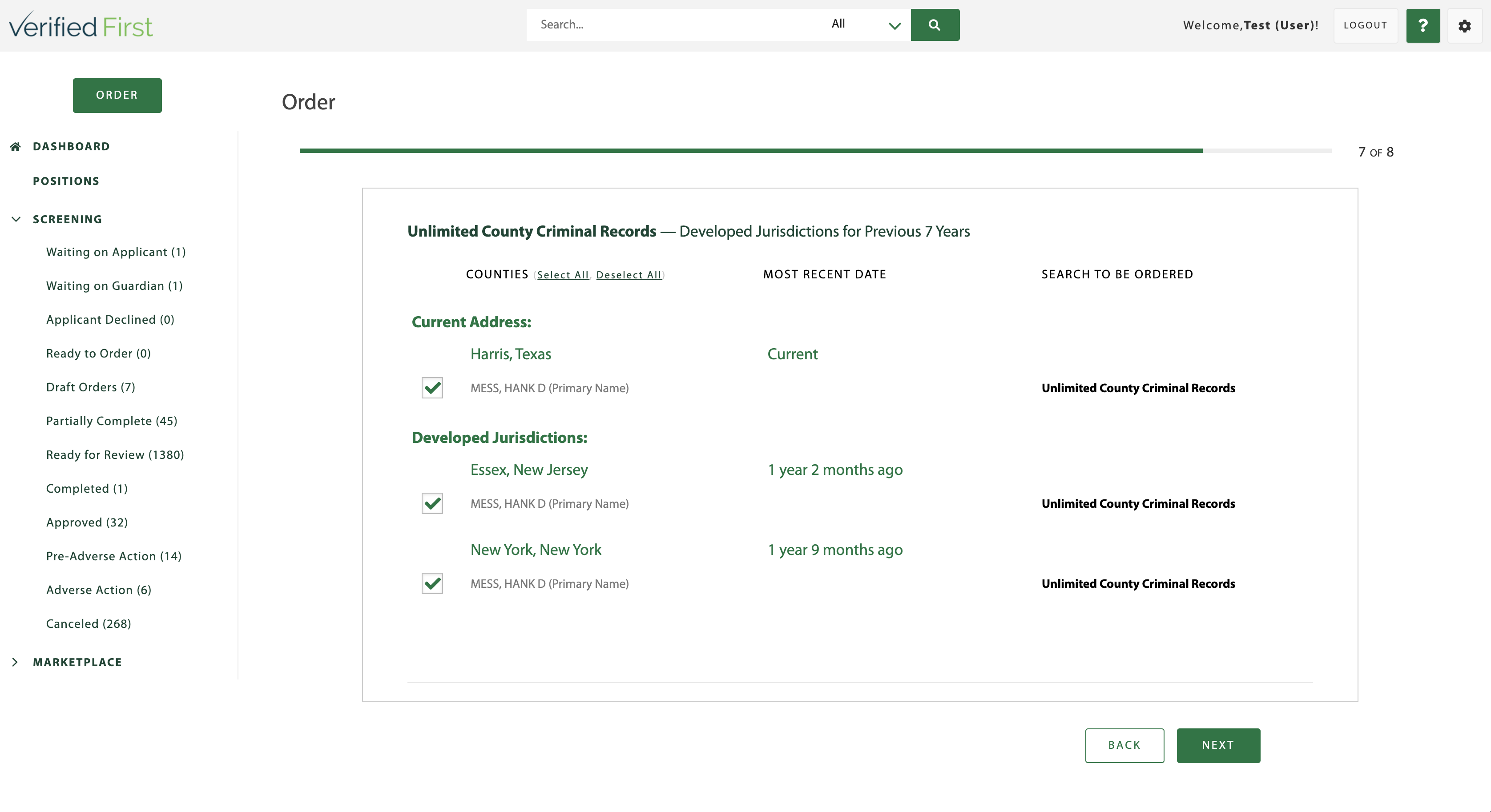 Click Next again to be taken to the order summary page: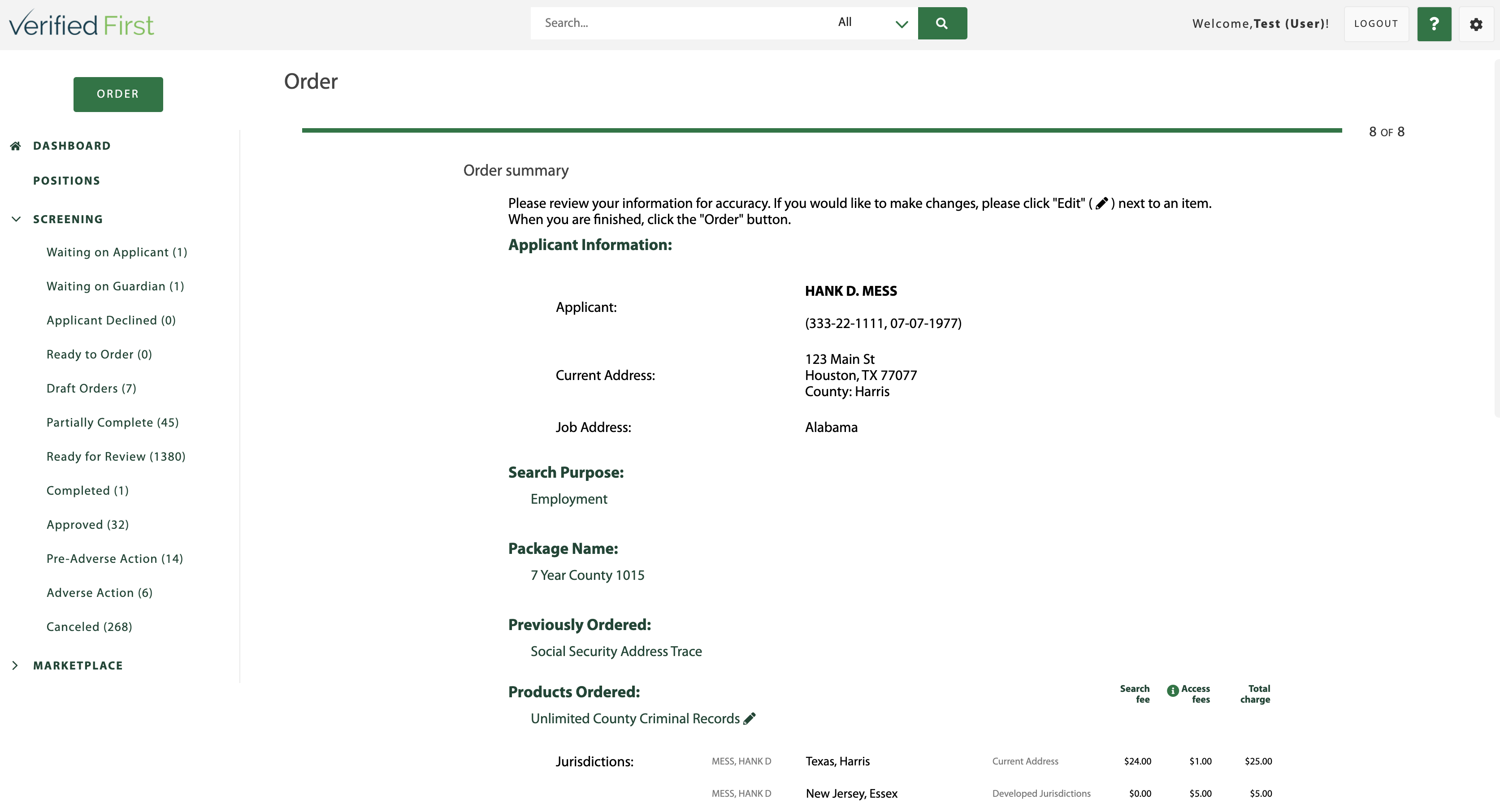 Review the order one final time before submitting at the bottom of the page:
If you have any further questions, or need a product enabled on your account, 
please contact Verified First Client Services for assistance.

Call 844-709-2708 or email ClientServices@VerifiedFirst.com