If you would like to customize your branding for emails sent from your Verified First account, you can do so in your account settings, or you can contact Verified First Client Services.
Note: In order to customize your branding, you will need the "Manage Account Settings" permission. 
To customize your branding, first log in to the portal and click on the Gear icon in the top-right corner of your screen.

Select the "Settings" tab and select Branding.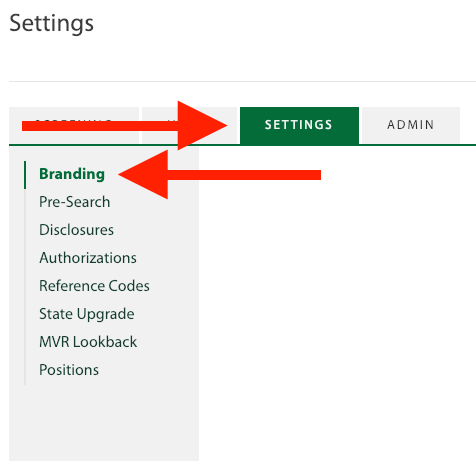 From here, you can add your company's logo. To do so, select "Choose File" and select the appropriate logo/image file. 
To complete your branding, input your primary brand color.

IMPORTANT NOTE: Uploaded images must be in a pNG, GIF, JPG, or JPEG File format, must be less than 2MB in size, and must not exceed 500px X 500px
If you have any further questions, or need a product enabled on your account, 
please contact Verified First Client Services for assistance.

Call 844-709-2708 or email ClientServices@VerifiedFirst.com