Occasionally a candidate for which you are running a background screen might not have a social security number (SSN). A recent update to the Verified First portal ensures that, if the file qualifies, a new checkbox of "I don't have an SSN" is presented to the candidate when they complete their applicant invite.
What type of file qualifies to process without an SSN?
A file that contains at least one product that doesn't require an SSN to be entered in order to be processed.
How will a file appear when the candidate chooses "I don't have an SSN"?
Any product(s) on the file that require an SSN will be automatically removed from the file and will not be transmitted to our vendors. Activity history on the file will show that the candidate didn't enter an SSN:

Will the HR user/File Orderer be notified when no SSN is entered in the applicant invite workflow?
Yes, once the candidate finishes submitting the applicant invite, the "Ready to Order" or "Applicant Has Finished Their Invite" emails that are sent to the File Orderer will have updated language showing at least one of the products that was originally ordered has been removed from the file: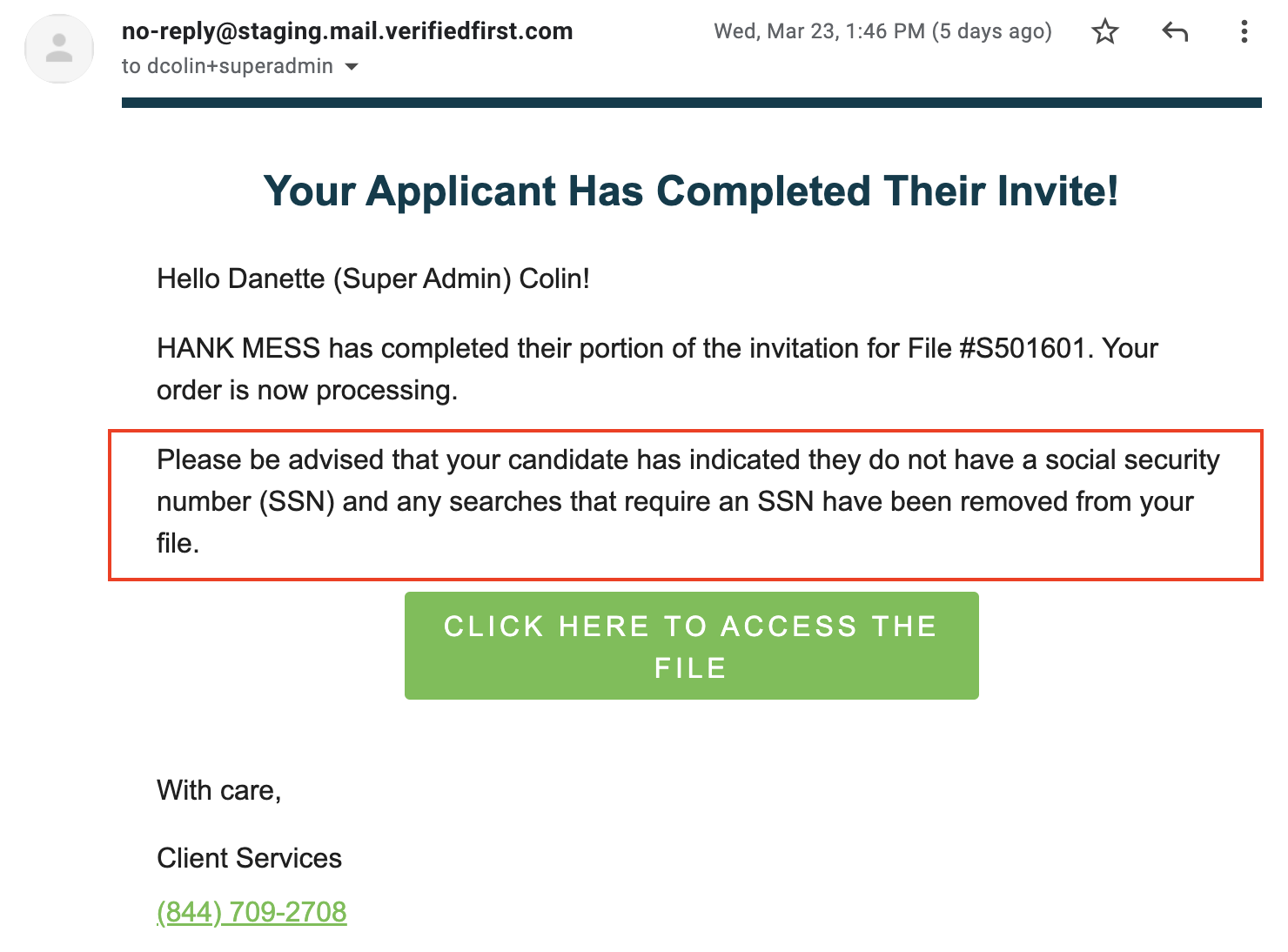 What if the candidate selected the "no SSN" option by accident?
If you discover that your candidate unintentionally selected the "I don't have an SSN" option, you will need to complete any searches that remain on the file and then will need to do a Re-Screen for the additional products that are needed. You will not be able to add the dropped products/searches back to the file via Add to Order, so in the end you will have two separate file numbers for that candidate. Just be sure the candidate adds their SSN when they complete the applicant invite process again, or you can submit the order as a direct order and enter the SSN on behalf of the candidate so the searches will be retained the second time you create the order.
The information and opinions expressed are for educational purposes only and are based 
on current practice, industry related knowledge and business expertise. The information
provided shall not be construed as legal advice, express or implied. 

If you have any further questions, or need a product enabled on your account, 
please contact Verified First Client Services for assistance.

Call 844-709-2708 or email clientservices@verifiedfirst.com