In order to place a direct order, you must have the "Order Reports" and "View Reports" permissions.
Optional permissions include "Order Reports for Other Users" and "View All Reports for Other Users"
The following information from your candidate is required to place a direct order:
First and last name

Middle initial (optional)

State of Employment

Social Security Number (SSN)

Reason for Drug Test

Pre-Employment

Random

Etc

Collection location

Clinic to take Drug Screen

Expiration Date

When the applicant/employee needs to show up to clinic
Note: depending on other products being ordered, additional information may be required.
First, login to the Verified First portal and click the Order button at the top-left: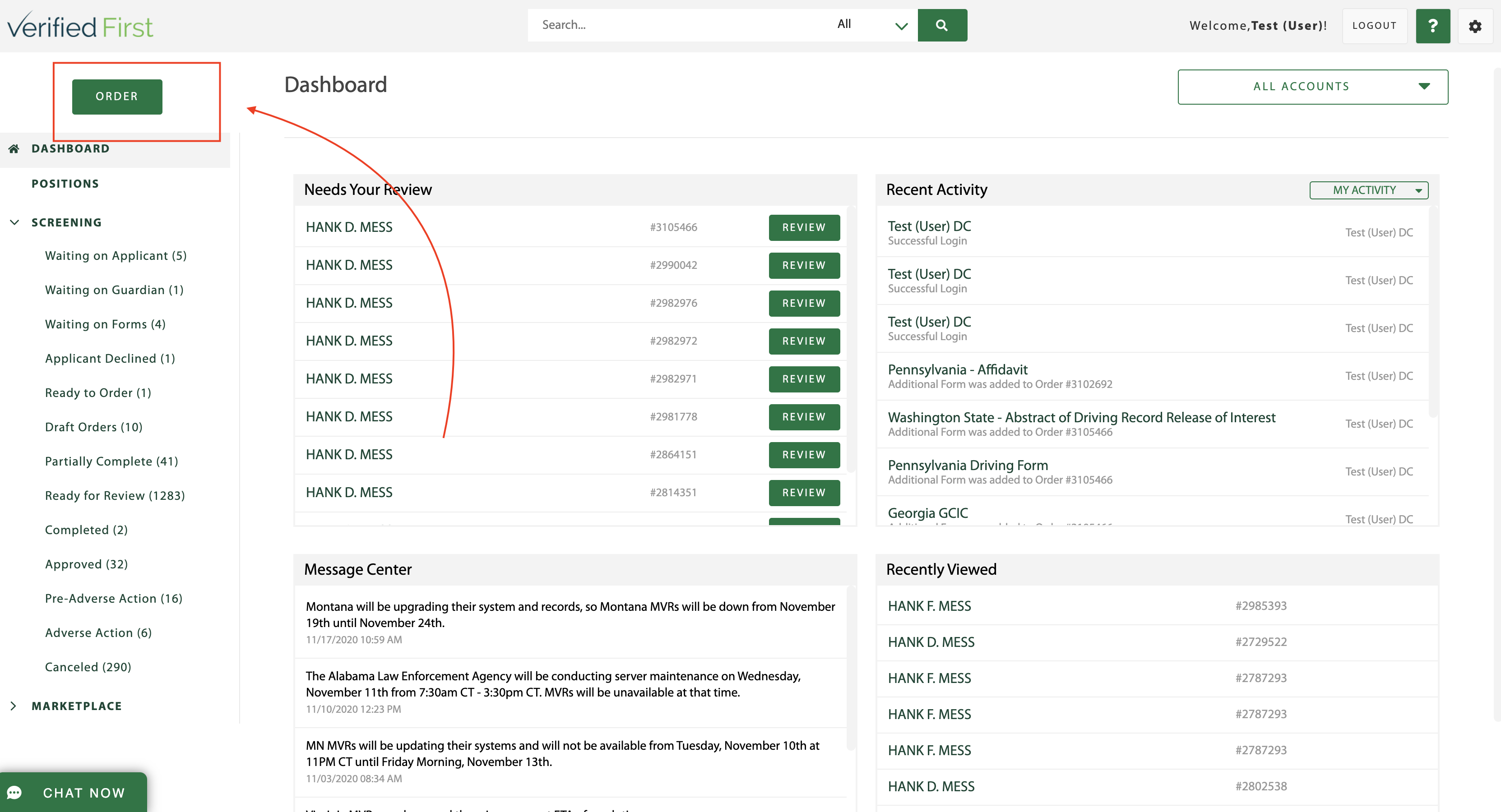 Next, you will need to enter basic information about your candidate. Required fields are marked with an asterisk: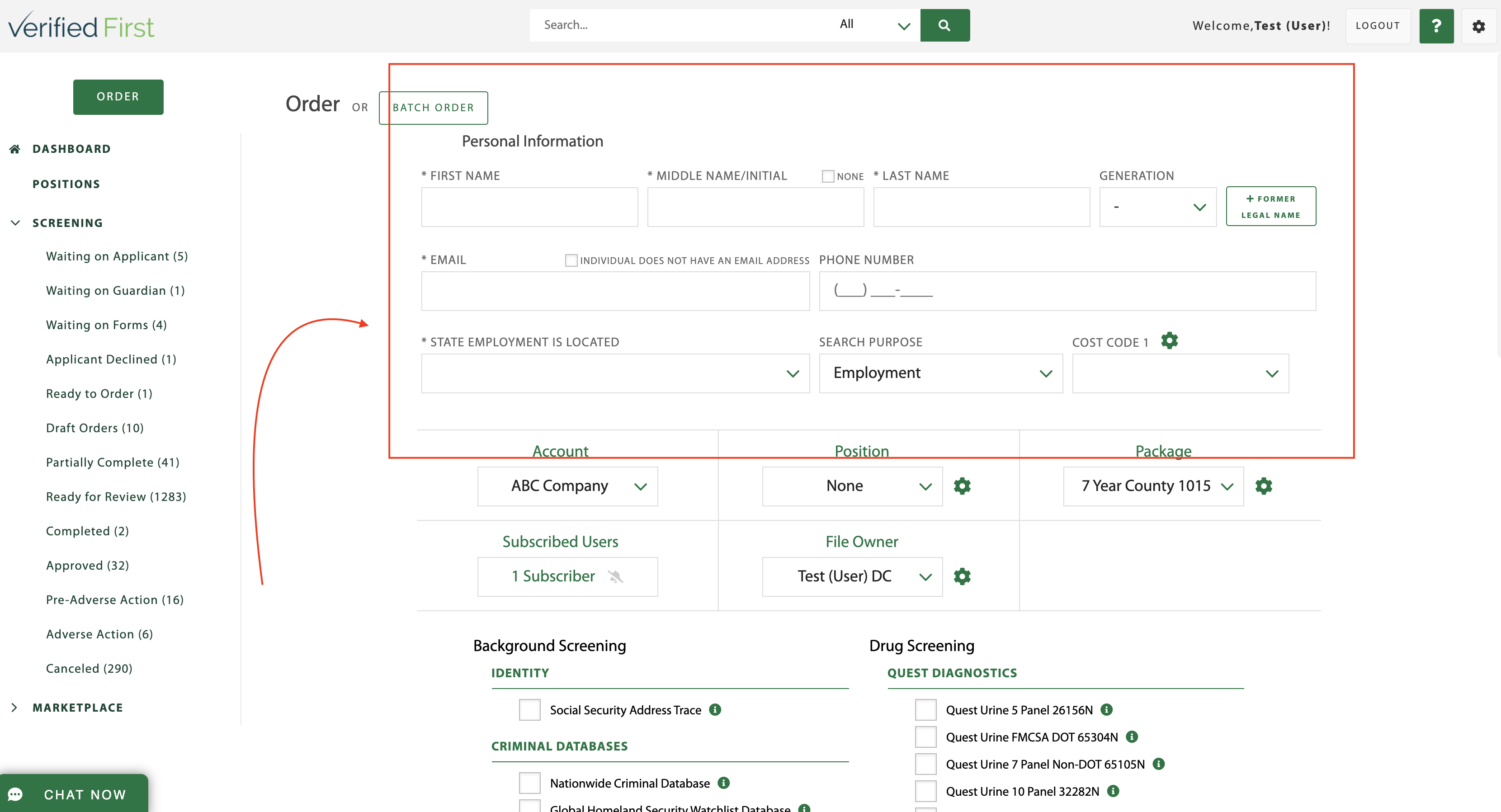 Select your package and designate a file owner. You'll notice the package you selected pre-checks products for you, but you can uncheck these products and add additional products if you would like (and your permissions allow it):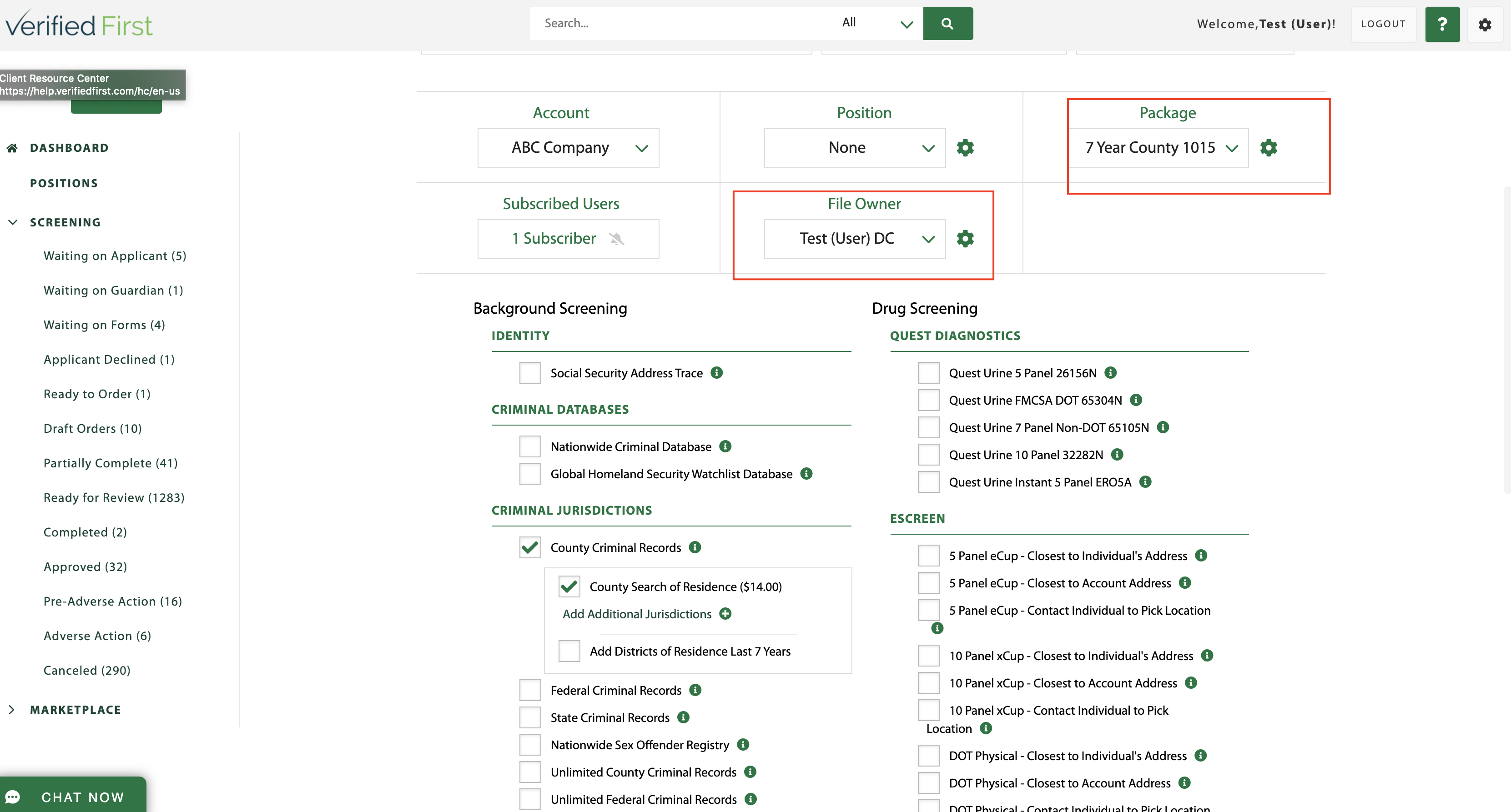 Scroll to the bottom of the page and select Next. If you do not have the signed disclosure and authorization forms and/or all of your candidate's personal information, see "Placing an Applicant Invite Order."
Please note: If a file is a Drug Screen-only order disclosure and authorization forms are not required. When an individual goes in to take their drug screen, they will sign a Chain of Custody form and will be provide their own sample, thus they are providing their authorization for the drug screen.
Finish entering the rest of your candidate's personal information. Click Next.
When you get to the drug screen page, select the drop-down for the 'Reason for Testing' and then enter an address to find a clinic in a specific area: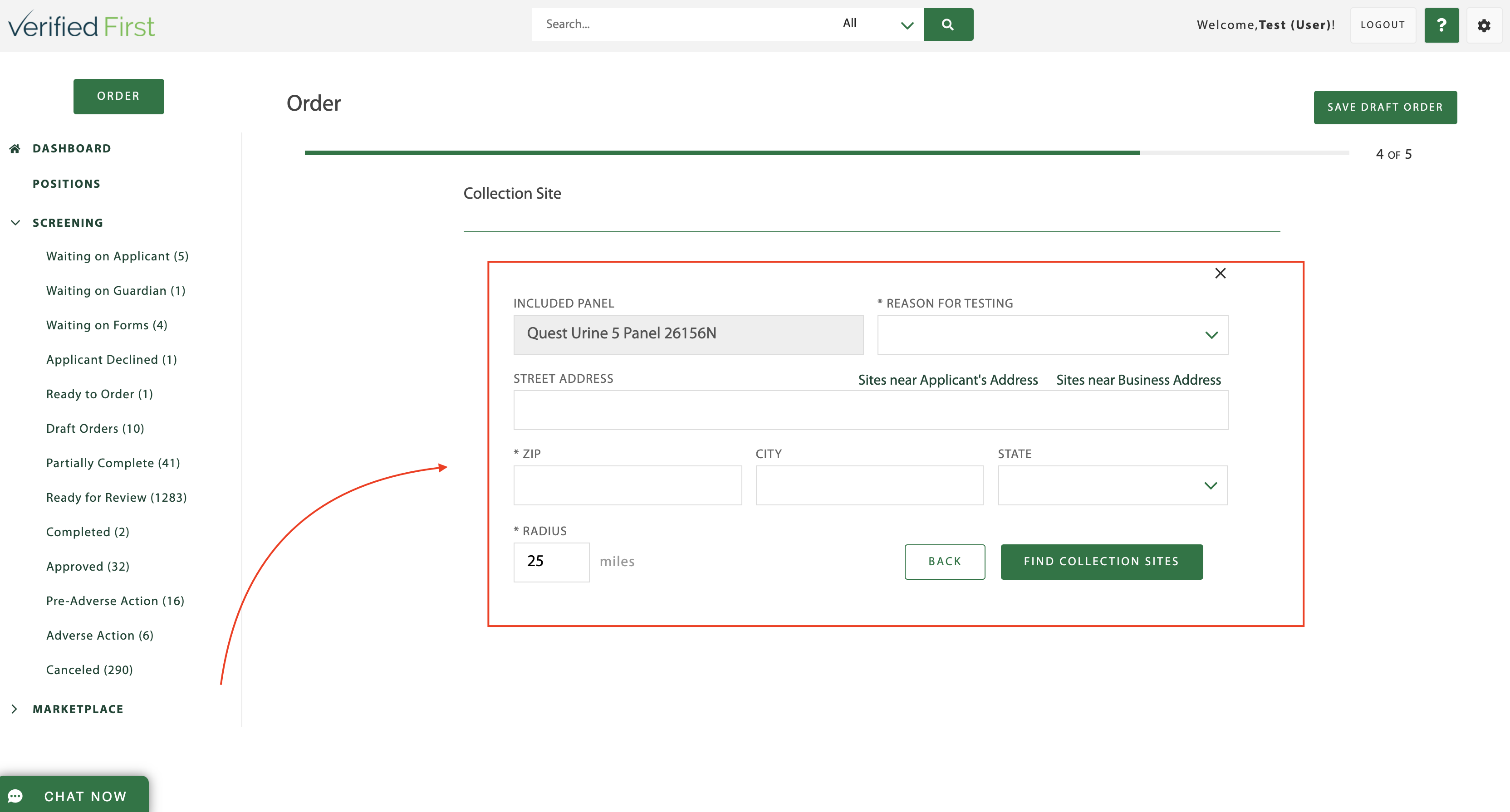 You can also click the shortcuts of "Sites near Applicant's Address" or "Sites near Business Address" to find drug testing locations near one of those two addresses.
Click Find Collection Sites button and then select a pin in the map for the location at which you desire the candidate to perform their drug test: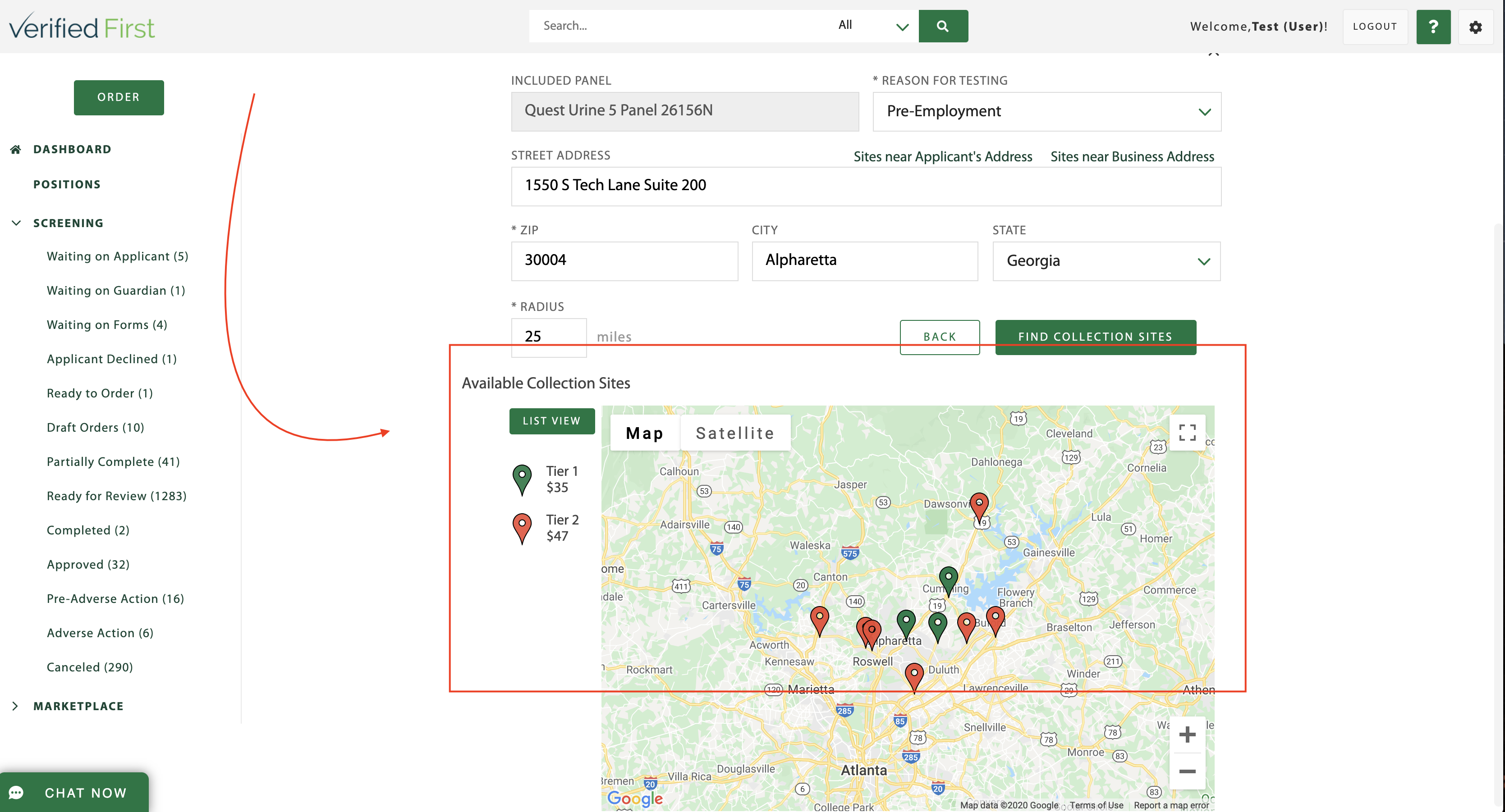 Once you have selected the location for testing, you will need to set the expiration date and time by which the applicant must have their test completed: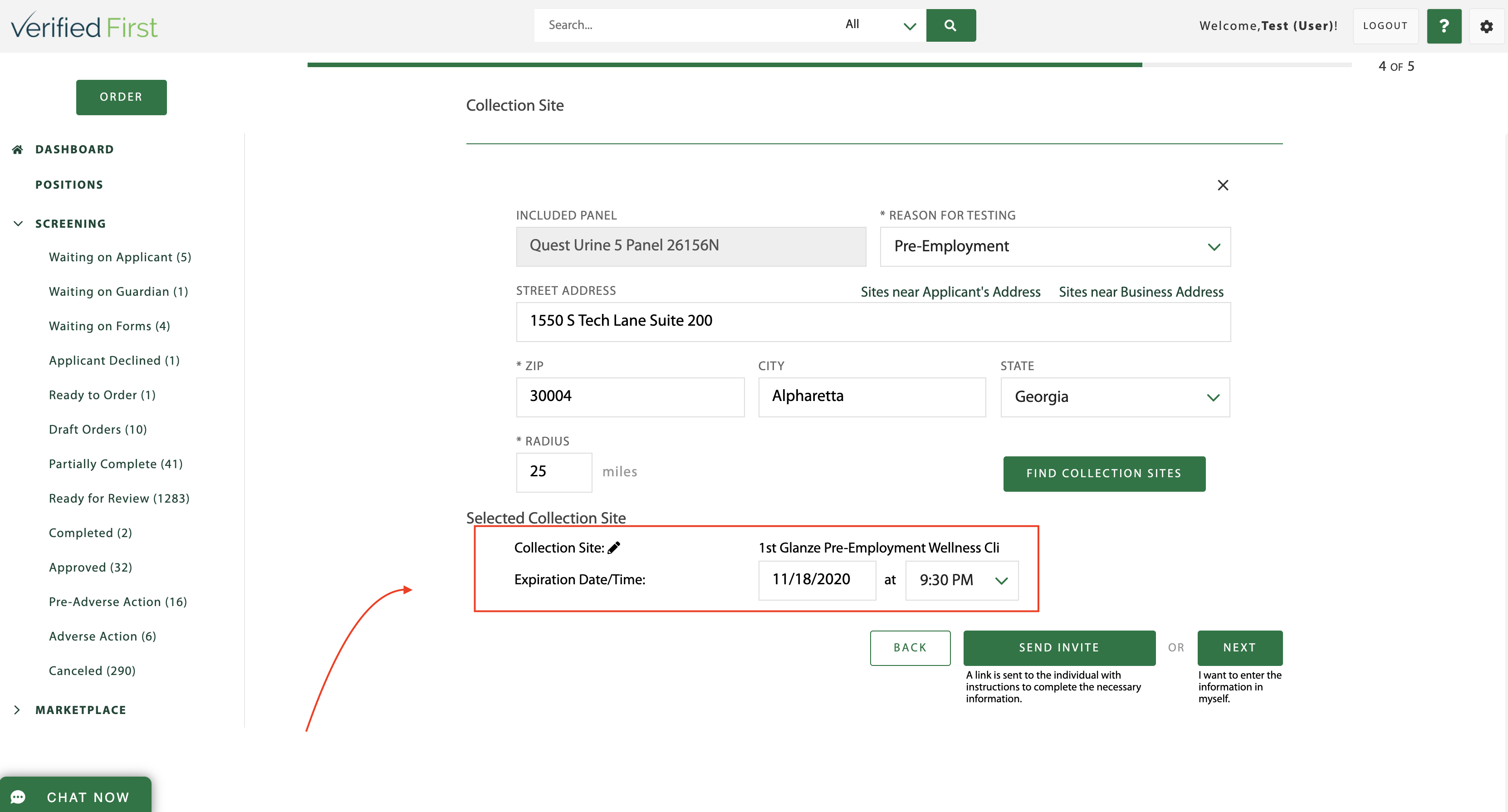 Click next. The order summary page is where you can review the candidate information that was entered, confirm the correct products were entered, and that the proper information was selected for the drug testing location appointment: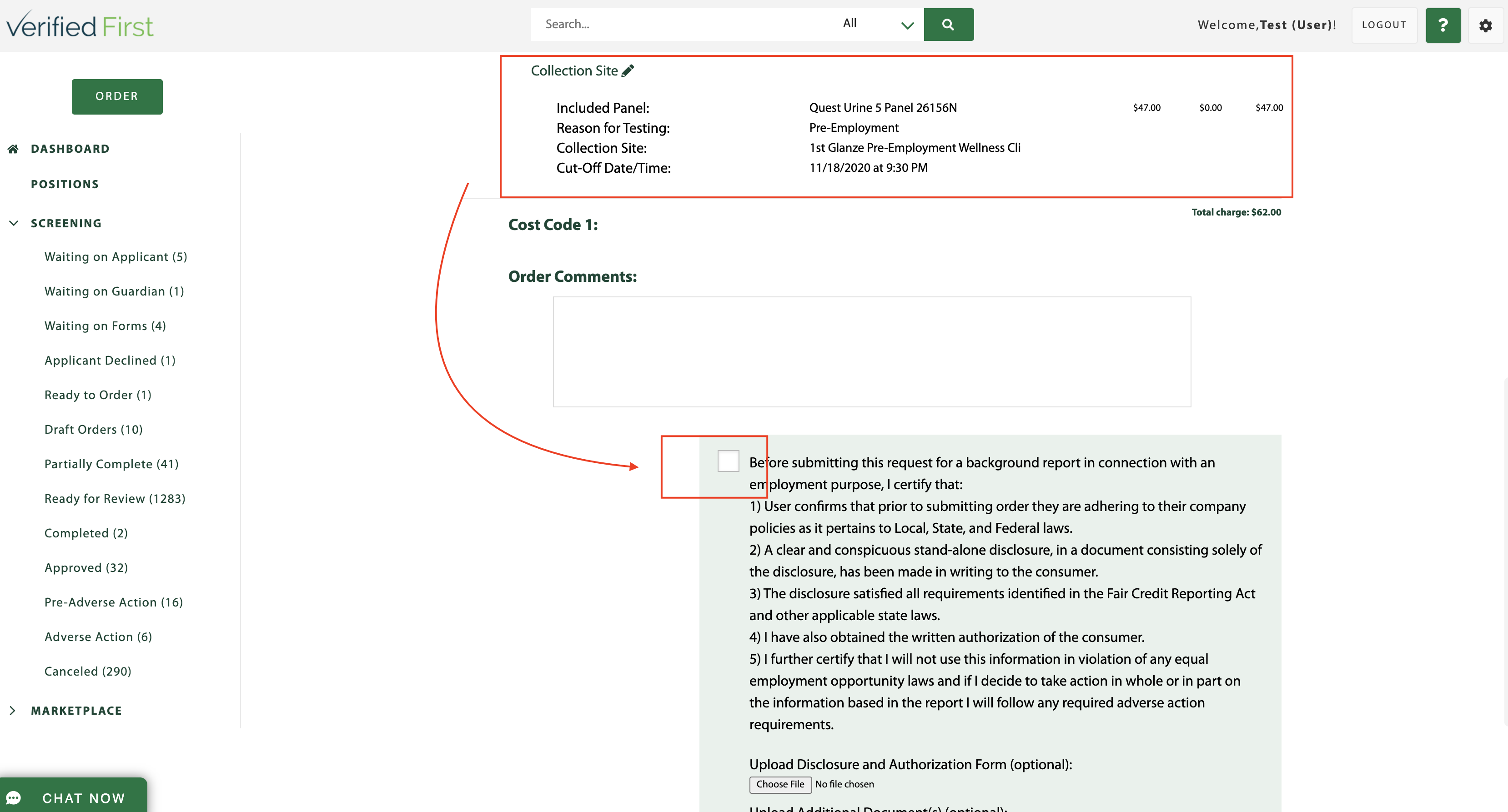 At this point, you are given the option to upload the signed disclosure and authorization forms. While this step is optional, it is highly recommended that the forms are uploaded in case they are needed in the future.
Once you are ready to submit your order, you must first check the box certifying that you have satisfied all the necessary FCRA requirements contained within it: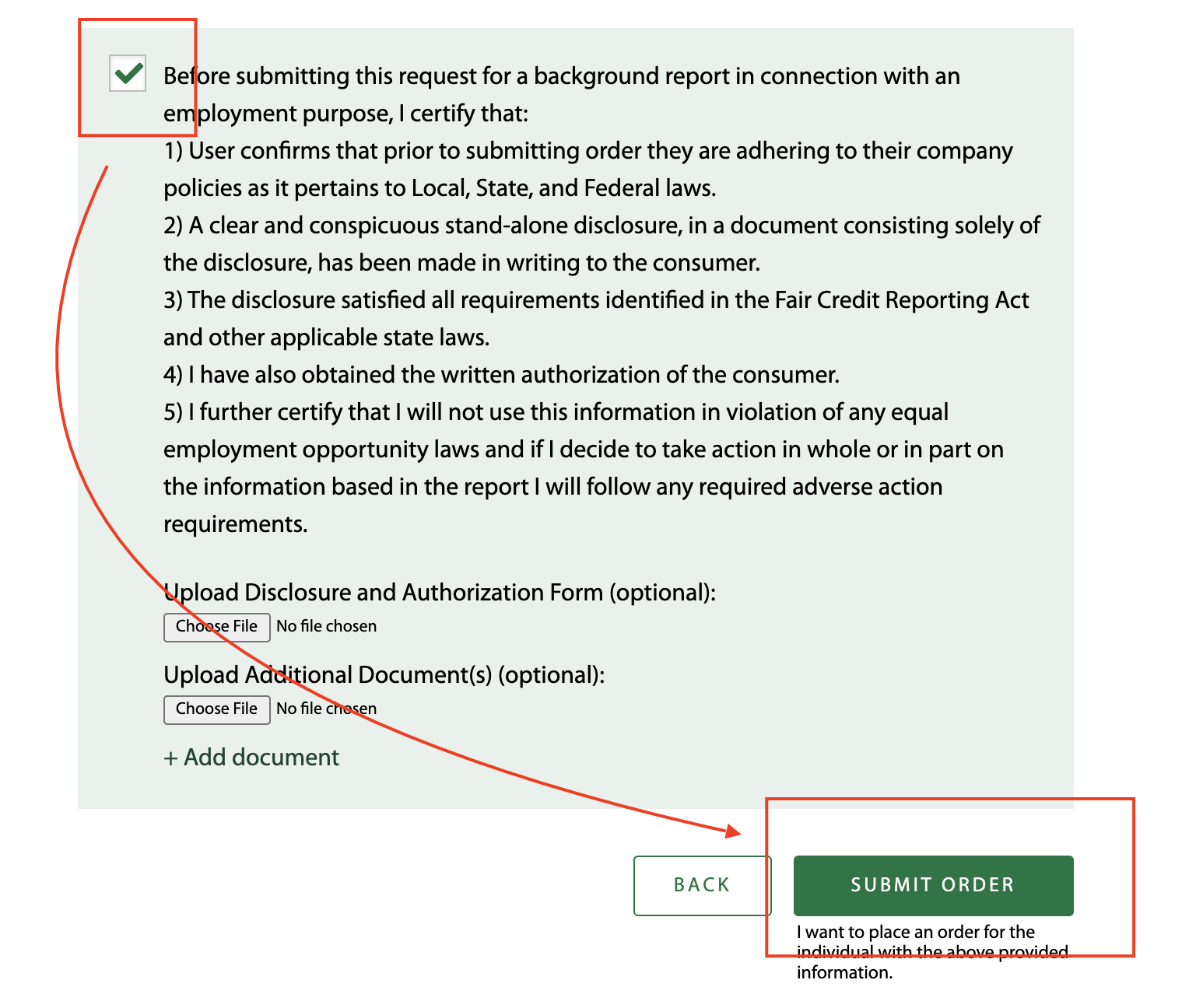 Once you have finished reviewing the information and you are ready to order the background screen, click Submit Order to begin processing the information. File subscriber(s) will be notified via email with a link to view the report once the order is complete.
If you have any further questions, or need a product enabled on your account, 
please contact Verified First Client Services for assistance.

Call 844-709-2708 or email ClientServices@VerifiedFirst.com