Ordering Employment Verification:
In order to place a direct order, you must have the "Order Reports" and "View Reports" permissions on your user account.
Optional permissions include "Order Reports for Other Users" and "View All Reports for Other Users."
The following information from your candidate is required, at minimum, to place a direct order:
First and last name

State of employment

Email address
Note: depending on other products being ordered, additional candidate information may be required.
First, login to the Verified First portal and click the Order button at the top-left: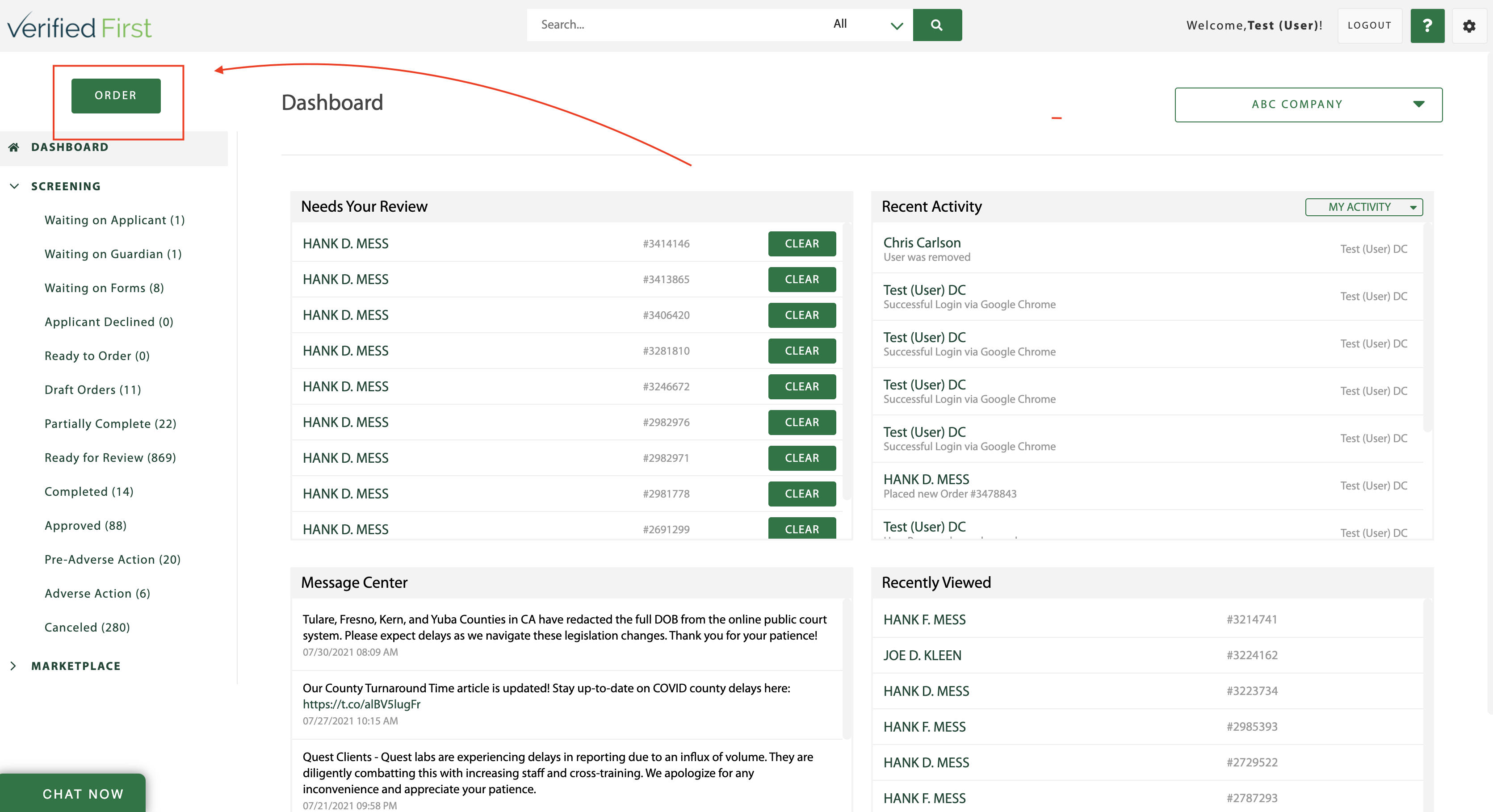 Once in the Order Menu, select the Employment Verificaiton product. You will be presented an option for The Work Number(TWN) Fee approval. The fee to complete a Verification through TWN is $83.66. You may indicate at the time of order to pre-approve the TWN fee, deny the fee or can ask Verified First's verification specialists to engage you directly at a later time to determine if you approve or do not approve.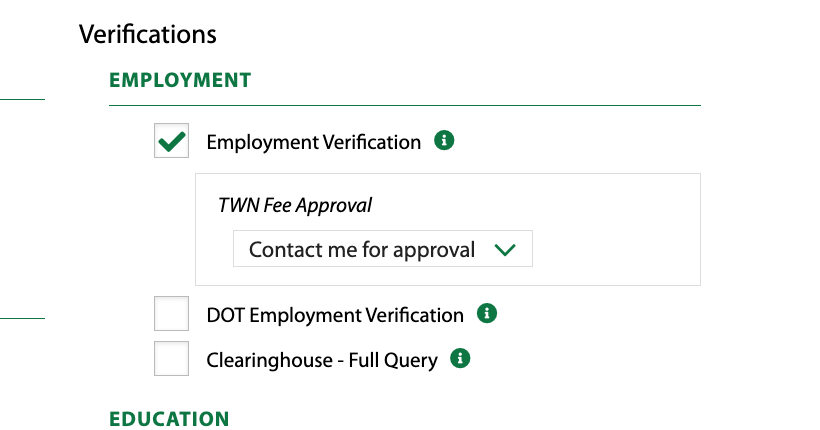 Select 'Send Invite' to have your applicant begin to fill out the questionnaire for the BG check and to provide their previous employers information.
Please note: If you would like to change the default option on the TWN Fee approval, go to your settings(gear), Company Configs - Account. Scroll down till you see TWN Default Response. Just choose the option you think you would use most frequently but can always be changed from the order menu.
Process:
Our Verifications team contacts employers via phone, email, and fax. The team will make six attempts to reach each employer before closing the file.
If the team is unable to make contact within the first two days, and are unable to find additional valid contact information through online research, we will reach out to our client and/or applicant (with client's approval) for additional contact information.
If the employer utilizes a 3rd party company for the purpose of reporting employment history, additional access fees may apply.
Verification of Employment includes:
Employer type "Previous or Current."

Position "at minimum last position held."

Employment timeframe "Start Date" and "End Date."

Type/Status if requested we will verify "Full time or Part Time"

Reason for leaving if requested we will ask the employer to verify. This will be

provided if this is not against their company policy.

Eligibility for re-hire will always be requested and provided if not against their

company policy.
Authorization Forms Needed for Employment Verifications
Please note that signed Authorization Forms are requested to be provided before many employers will provide verification. If these forms are not uploaded to the file we will have to reach out for them before the verification process can be completed.
If these forms are not provided within 4 business days the verification will be completed and flagged as "Authorization Not Provided" as we will not be able to proceed with the verification without it.

If they are provided within 30 days of the original verification request we will reopen and proceed with verification.
Pass-Through Fees
Beginning December 1, 2021, clients have the following options when ordering an Employment Verification product:
Run The Work Number (TWN)

$83.66 pass-through fee will be applied to each file.

Request W2/Paystub Document Retrieval from candidate.

A $15.00 pass-through fee will be applied to the file.

To do so the team will:

Send an email to candidate for W2/paystubs. (We email candidates twice within our standard 4-day process.)

Verify employment with the W2/paystubs received and attach it to the file after masking Personally Identifiable Information (PII) and salary information.
The information and opinions expressed are for educational purposes only and are based 
on current practice, industry related knowledge and business expertise. The information
provided shall not be construed as legal advice, express or implied. 

If you have any further questions, or need a product enabled on your account, 
please contact Verified First Client Services for assistance.

Call 844-709-2708 or email clientservices@verifiedfirst.com