After you issue Pre-Adverse Action and wait seven calendar days, you (and the file owner, if you are not the owner) will receive an automated email from Verified First notifying you that you may take Adverse Action, if warranted: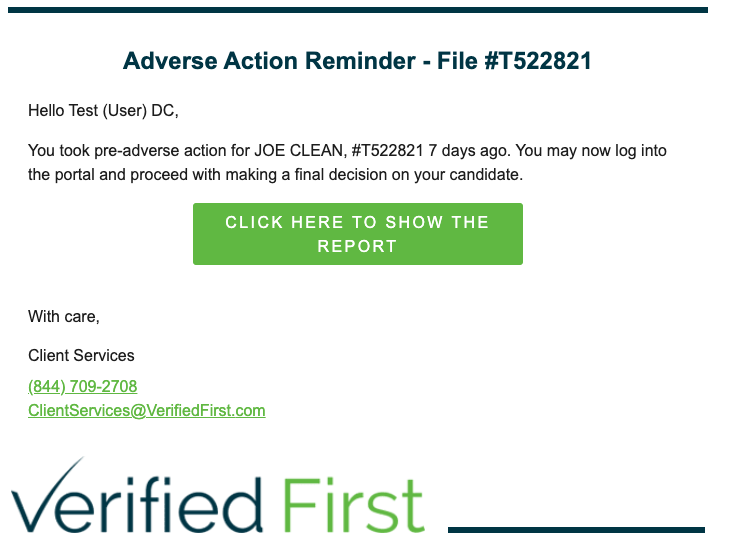 In order to take adverse action on a file, you must have "View Reports" permission in addition to "Allow Review Action" permission with "Allow Adverse Action" sub-permission enabled.
Verified First's Adverse Action process meets the federal minimum standards, but other areas may have additional requirements. You are responsible for knowing and following jurisdiction specific laws that apply to your area. The "Additional Forms" library in your portal has additional area-specific Adverse Action notices available:

To take Adverse Action, sign in to the Verified First portal and open the report of interest. Click the Issue Adverse Action button and specify how you would like to issue the notice. You can choose to email, print, or mail the notice: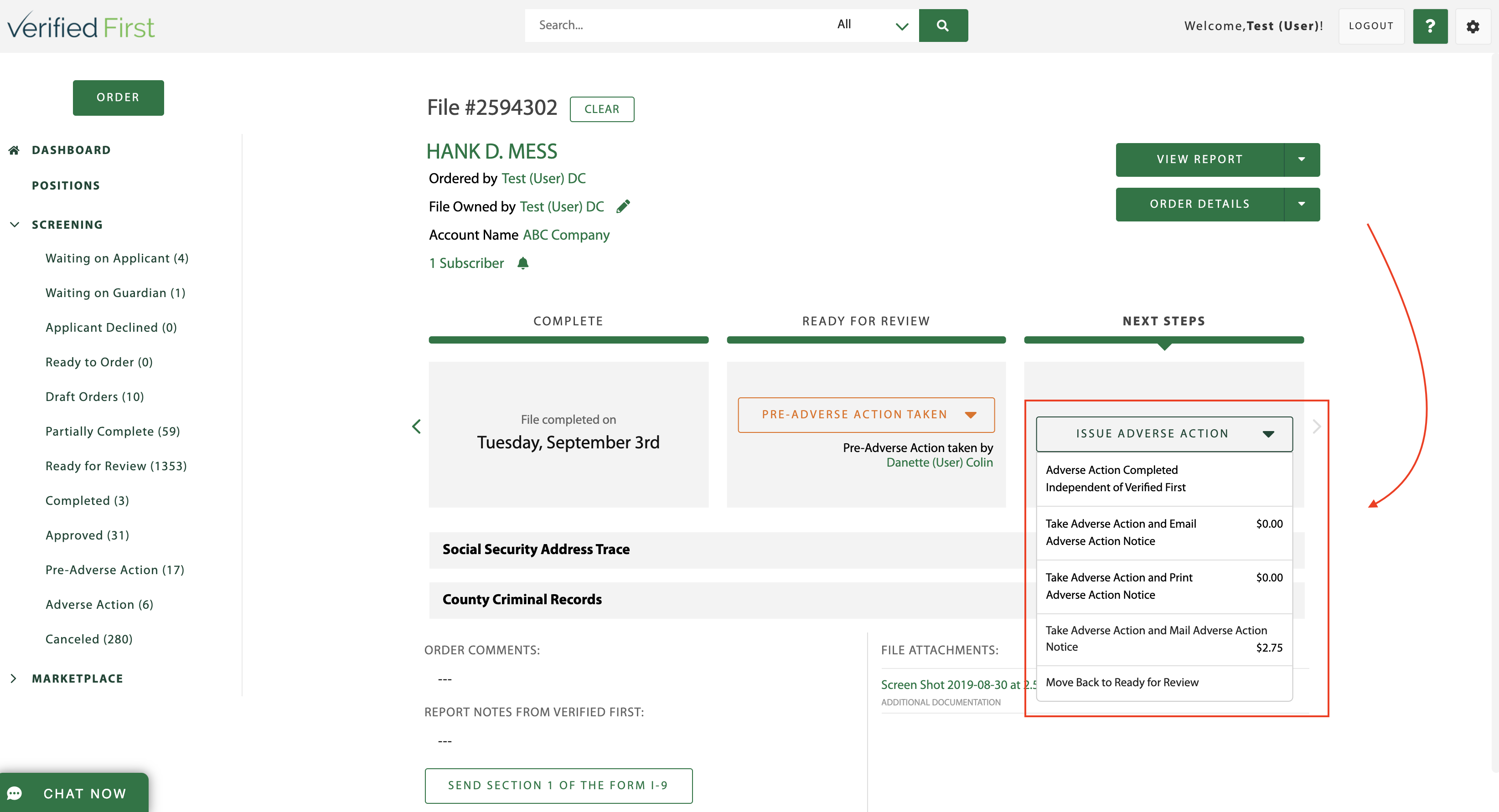 The candidate will receive a notice which includes a consumer copy of their report, a full summary of their rights, and contact information for Verified First in the event that they would like more information - or to dispute an item on the report. In order to access the candidate's consumer copy, the candidate will be required to enter identifying information to help protect the security of their report: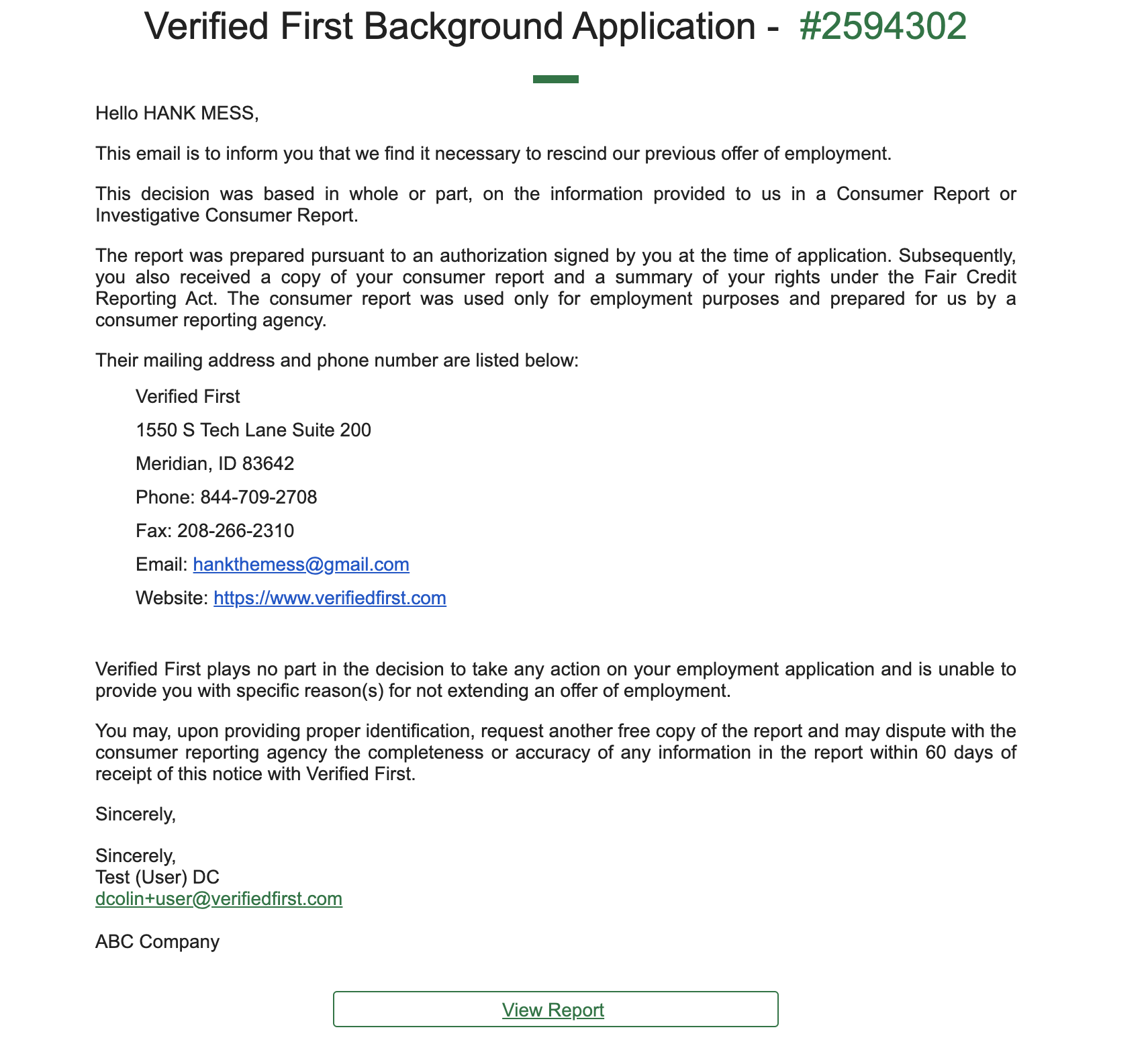 If the Issue Adverse Action button is not visible or is greyed out, this can mean one of a few things:
You have not yet issued Pre-Adverse Action

You have not waited the required 7 calendar days since issuing the Pre-Adverse Action

You do not have "Allow Review Process" permission enabled, or the sub-permission of "Allow Adverse Action" enabled
You can opt to receive daily Adverse Action Reminder Emails after you've taken Pre-Adverse action that will notify you of how many days you remain until you can take Adverse Action. This can be set at the account level, or on an individual user level.
The information and opinions expressed are for educational purposes only and are based 
on current practice, industry related knowledge and business expertise. The information
provided shall not be construed as legal advice, express or implied. 

If you have any further questions, or need a product enabled on your account, 
please contact Verified First Client Services for assistance.

Call 844-709-2708 or email ClientServices@VerifiedFirst.com